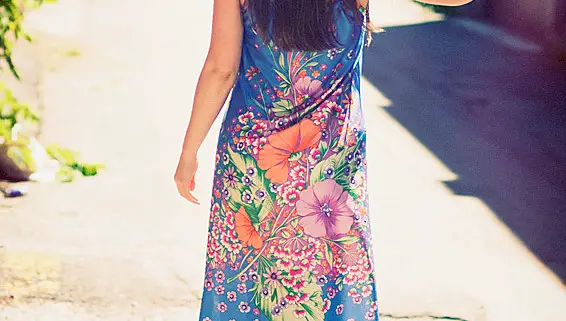 Wondering how to wear vintage 1970s dresses in modern fashion style? This post is for you!
Recently I have made a lookbook for the Fripe Fabrique store (where I am a business partner) where we featured five hot 1970s dresses. It was a fun photo-shoot where I was a photographer, a model, and later a photo editor. Photos of me were taken by the owner of the store, dear Michelle.
My main fashion style is mixing vintage and modern clothing (a fashion trend for Generate Y and Millennials), and this photo shoot perfectly shows how stay modern while wearing vintage. In this blog post I will explain how the look style was created and give you styling tips on mixing modern fashion with vintage pieces.
Floral Vintage Dress
This is a beautiful dress in busy floral pattern that makes a bold statement!
Combine it with simple accessories in matching colours. We chose a simple wide brim fedora in deep blue and nude cork wedge sandals.
Black Vintage Dress
This black dress is simply gorgeous! Thin sexy multi-layered chiffon, spaghetti straps, simple A shape, pleated fabric – all you need to in one perfect piece. This dress is a blank canvas for your perfect preferred look.
Combine it with a mix of simple and sophisticated accessories – like we did. We chose a simple black vintage clutch bag in crocodile pleather, a long silver pendant necklace made by one of local Montreal designers, and a pair of fancy shoes. For the hands we chose a pair of slave bracelets by another local Montreal designer Uranium, one for each hand.
Bright Vintage Dress
This blue electric dress is for true colour lovers! It is made of a beautiful shiny fabric, and it is a true gem on its own. This dress needs nothing but a few equally colourful pieces in contrasting colours.
Combine it with bright bracelets or a bright bag in busy pattern. We went with the bracelet option making them out of vintage scarfs 😉
Pastel Vintage Dress
This sunny yellow dress is a condensed summer in its nutshell!
Combine it with pieces with busy pattern in contrasting colours, and shine like a real summer!
We chose a purple vintage belt, Miu-Miu shoes, and a geometric pattern head scarf in matching colours.
Hope my styling tips helped you. If you want to see the rest of pictures, go to the full lookbook.
Love the dresses? You can buy them at Fripe Fabrique online shop!
Disclaimer: Yup, this post may contain affiliate links! If you buy something from me, I get some margarita money (not enough to buy a pair of shoes). Read more here.