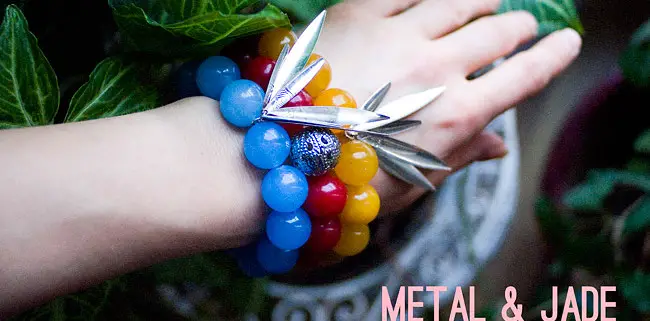 Converting old things into new ones is my crazy obsession. Every piece of junk literally winks at me and whispers – me, me, take me!
This time it was a pair of old silver tone earrings looking at me very seductively. I bought them long time ago, and it did not work out between us. They were awesome… also way too heavy for my ears. Well-well-well, my friends, it is time to make something pretty out of you!
The earrings look slightly chipped and rusted, and I decided to combine them with polished jade beads. Rusty and glossy, sexy 😉
DIY Supplies
Here are the tools I used to cook my new hand candies:
over-sized polished jade beads in three colours
earrings
two pliers
crafting super glue
1 mm elastic string
DIY Steps
First I stripped down the earrings into pieces. I got four metal carve beads, a bunch of fish shaped pendants, jump rings, and some garbage (that was not talkative even with me 😉
The smaller beads turned out to be too small to be used with the oversized jade beads. I ended up using only the bigger ones and kept the tinies for the next time.
After stringing the beads together, I made a know and secured it with the super glue. If you tried it at least once, you know it is not as easy as it sounds! In my post DIY: Bracelets Made Of Necklace I explained how to do it properly.
Three little fish pendants and two big ones combined made a great and quite voluminous metal tassel.
Now the tassel goes in between the beads attached with two jump rings.
And that`s it: bright statement bracelets! So sweet, so candy that I want to eat them!
DIY Before And After
Here comes my traditional Before & After photo 😉 Happy DIY-ing!
Disclaimer: Yup, this post may contain affiliate links! If you buy something from me, I get some margarita money (not enough to buy a pair of shoes). Read more here.