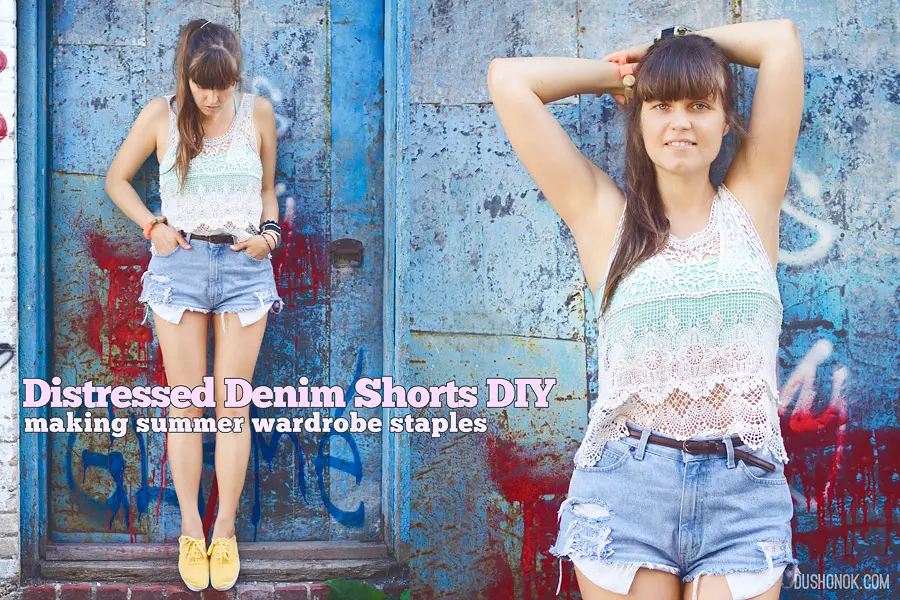 It is already August, and it means we have about two more months to wear one of the most popular summer wardrobe staples: Denim shorts! So I decide to go through my old posts and re-post a distressed denim shorts DIY from the last summer (that`s why my hair on the picture looks different 😉 ).
Are High Waisted Shorts In Style?
Absolutely! And I bet they will stay in style for a while.
I know why I decided to switch from low to high in the waisted bottoms section of my wardrobe. It was no-brainer: The high waisted shorts are one of the most flattering pieces in my closet.  The top part of the shorts (and other high waisted bottoms) cover a large portion of the stomach area, making it flatter. It allows to get maximum comfort after eating a big meal. We all love to eat big meals, don't we? 😉 That's why we love HW shorts and keep wearing them again and again!
And it's easy to make them yourself if you have a proper pair of vintage jeans. In this blog post I will show you how to do it. Apart from being a fun project, it can also be used as a back-up plan in case you spoiled the jeans while doing some other upcycling, for example, bleaching. This was exactly that happened to me.
My DIY Shorts Before
While the shorts from the picture above are the ones I made a while after, here come the original shorts I made for this post.
At first the shorts used to be high wasted jeans. I tried to bleach them on the bottom, but the fabric got dirty yellowish colour. Uh-oh! Unable to fix it, at first I did not know what to do… Then I said to myself: "Summer is here…" And then added: "An extra pair of shorts would come in handy…" And then exclaimed: "Why not again turn a failed DIY into success and brag about it on the Internet!" And that's exactly what I did.
My dear friend who asked not to mention her name agreed to demonstrate the result.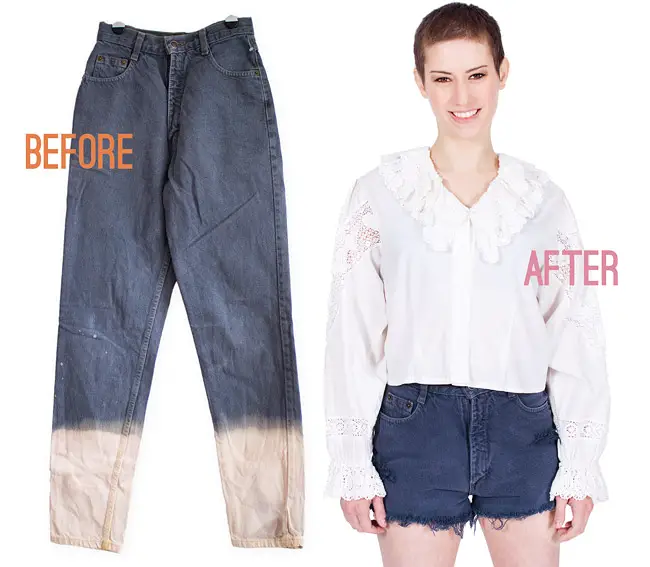 DIY Steps: Make Your Own Distressed Denim Cut Off Shorts
Ok. let's dive in into the DIY!
To made your own distressed denim cut off shorts, you will need:

jeans that you want to give the second chance;
sand paper;
fabric pen(optional);
scissors with sharp ends or X-Acto knife;
regular scissors

Mark how long you want your cut off shorts to be. If you have no fabric pen, just skip this step 🙂
Cut the jeans legs off. It is important to make the length on the back a bit longer than on the front – unless you want to show off  your butt 😉
Distress the edge of the shorts using the scissors.
Make small cuts through here and there and go over them with sand paper.
Repeat it again and again until you get nicely distressed holes.
Use sand paper on the fringe.
Wash the shorts to finalize the fringe and make it fluffy as well as to get rid of the dust
Your distressed denim cut off shorts are ready to wear!
Go out and tell your friends that it was you  who made them!
Disclaimer: Yup, this post may contain affiliate links! If you buy something from me, I get some margarita money (not enough to buy a pair of shoes). Read more here.