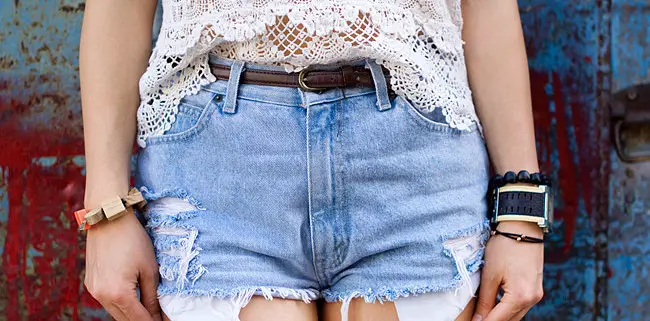 High Waisted Shorts Outfit Outfit
Speaking of  high waisted shorts outfits… After finishing  Distressed Denim Cut Off Shorts DIY, I realized that.. .I am obsessed :))) I needed yet another pair of distressed shorts in light denim. Well, all my high waisted shorts are pretty tight, and I wanted to have something looser and more comfortable. I went to a local thrift store and got a pair of vintage shorts made in 1980s. The shorts fit a bit baggy, but I was looking exactly for that (see the original shorts in the end of the post). On the next rack I spotted a pretty lace top that seemed to be a perfect companion to the shorts. I bought it too.
At home I distressed the shorts and made them really short, so that the pockets would expose. As my boyfriend is saying, the pockets that hang out make an impression that the shorts are very, very short 🙂
That's how this high waisted shorts outfit was born. I love bright clothes (after all this is what summer fashion is all about!), so I combined the top with a teal yoga bra by Lulu Lemon (the bra provides a great support, but unfortunately its straps are too thin, so they start cutting into skin after a couple of hours). To increase the effect, I added keds in bright yellow colour and a Kate Spade Saturday bracelet with big plastic neon pink and wooden beads. On the front I tucked the top in the shorts to expose the belt.
The pictures are taken in front of the same door where some of pictures from How To Wear Vintage 1970s Dresses post were taken. I love its shabby look; it is actually a back door of a real apartment.
High Waisted Shorts Before And After
You know already that I made theses shorts out of vintage shorts made in 1980s. Here is the Before And After picture of my DIY shorts, so on the left you can see the original item. Pretty boring, right? 😉 One of the reasons why I like upcycling is that because of the magic that happens when old non-useful items get converted into new exciting ones!
Disclaimer: Yup, this post may contain affiliate links! If you buy something from me, I get some margarita money (not enough to buy a pair of shoes). Read more here.