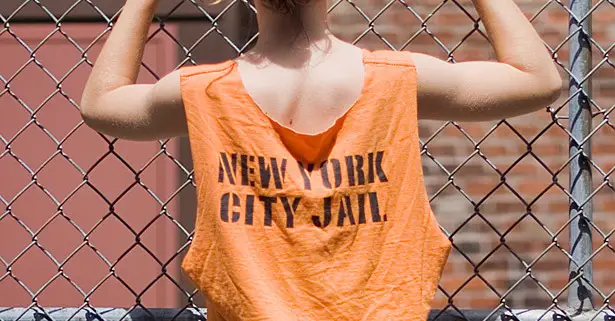 Orange Is the New Black
Crop tops is an essential part of high waisted short outfits. Luckily, it is so easy to make one on your own! In one of the DIYs I made in collaboration with Fripe Fabrique we show how to make a crop top from a t-shirt. The DIY was inspired by the Netflix series Orange Is the New Black (OITNB) which we are sooo hooked on this summer! And this t-shirt we used… Can you believe that we actually found it in a local Montreal thrift store?!?!
Check it out: OITNB Inspo: No Sew Crop Top DIY
More DIY crop tops? Yes, please!
If you want to make a crop top with a little twist…  Check out my other DIY Loose Crop Tee Made Of Male T-Shirt! In this project I decorated the edge of the tee with a  cord made of the left-overs of the t-shirt. Simple, but definitely worth to take a look at.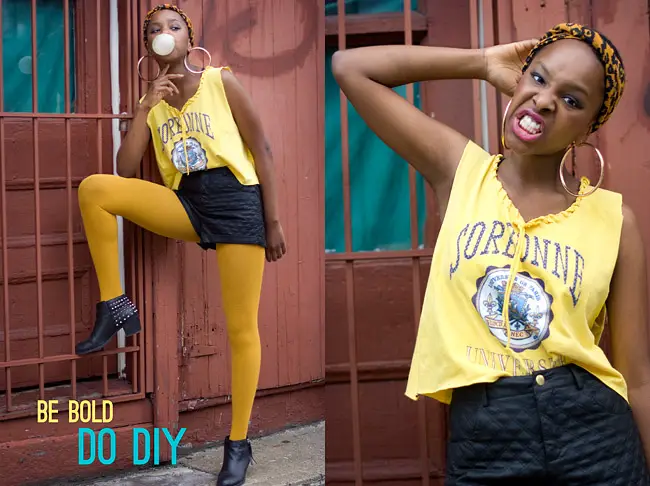 And I have to say that this summer it was my favourite tee! I usually wear it with high waisted shorts (of course ;), teal wedges with bright pink socks, teal sunglasses, and a geometric ornament bag. My boyfriend calls me Bright Clutter. I wonder why… 😉
Also, did you know that the sandals + socks trend is super practical? You do not need to do pedicure anymore 😉 Money and time saver! I need to buy more bright socks.
Crop tops are fun, and making them is a part of easy DIY fashion which is so popular nowadays. Also, it helps to preserve the nature by upcycling old t-shirts that would otherwise end up in landfills. Many old vintage t-shirts have cool and unique patterns, so it is an easy way for you to stand out of the crowd.
Happy DIYing 😉
Disclaimer: Yup, this post may contain affiliate links! If you buy something from me, I get some margarita money (not enough to buy a pair of shoes). Read more here.