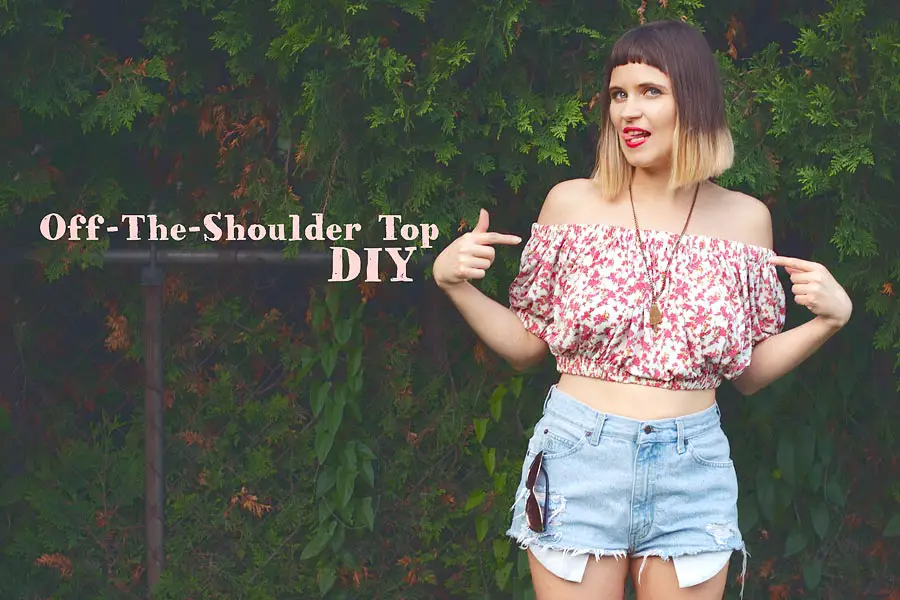 You see that picture above? That's an off-the-shoulder top I sewed myself!
Recently I went to a sample sale made by a local designer and bought some fabric. It is nice stretchy fabric with a pretty pastoral flower pattern; maybe a bit too girly for my taste, but why not try it once in a while. I decided to use it to make a real top sewn from scratch. In my previous post I talked about the-off-shoulder top summer trend, and this top was inspired by a Mochi top from one of the summer outfits by Man Repeller:
Before showing how I made said top, let's first look at how I posed in it… and at the resting bitch face I made!
Resting Bitch-Face And How I Fixed It
While doing the photo shoot, I totally forgot I got a new cute off-the-shoulder top. Result: resting bitch face.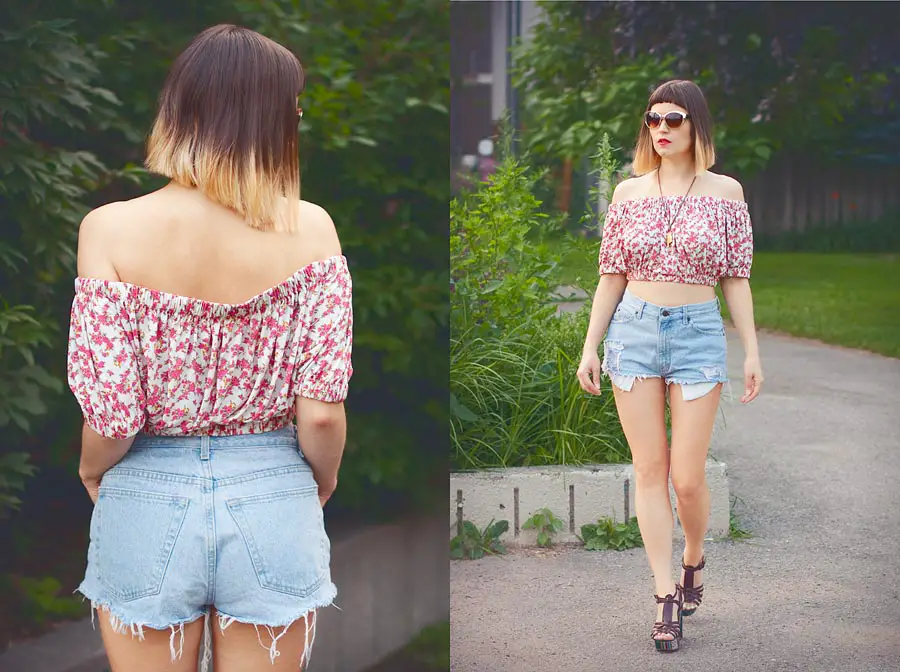 Here I look like one step away from being a human Grumpy Cat.

If you have no idea what resting bitch face is, read the description on Urban Dictionary:
resting bitch face

a person, usually a girl, who naturally looks mean when her face is expressionless, without meaning to.
It can happen to everyone. You walk along the office corridor thinking about what you will cook for supper, and all of the sudden a colleague of yours comes to you and exclaims: "Oh, what happened?! Why are you upset?!" And you are like "Whaaat?.." And then you remember: "Ah, that's JUST MY FACE," so you come up with some dump explanation to calm your colleague down. It happens to me all the time. No, I do smile. And I do laugh. A lot. But when I am relaxing or getting submerged into my deep thoughts, the best face of the world (the resting bitch one) pops in and just sits there.
So yes, I was posing with a total bitch face… And then in the middle of the photo shoot, I remembered! I got a new cute off-the-shoulder top! My RBF disappeared, and got replaced by… what is this? Girl-playing-soccer face? The imaginary ball was approaching towards me, and I was like: "Yes, give it to me! I can totally kick it back! Yes, while wearing these uncomfortable looking heels! And keeping my hands in the pockets!"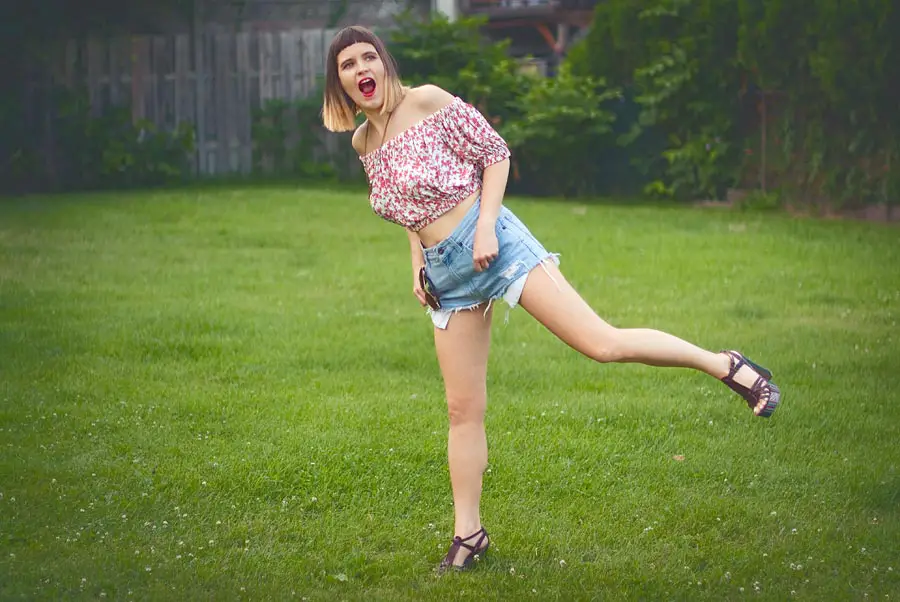 After missing the ball, it was time to rest on the grass and twirl and smile. Because I remembered: I got a new cute off-the-shoulder top.
So, my recipe to fix the RBF is to make a fun top and to roll on the grass to celebrate.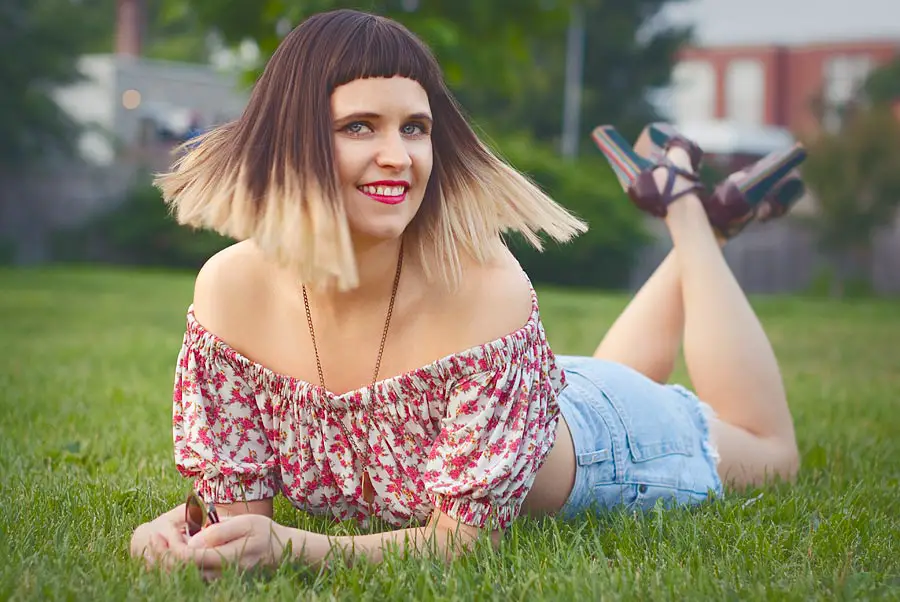 How To Get The Look
This look is easy-peasy. I made a bet on a winning combination with a bit of sexiness: top + shorts+ heels. So office-unfriendly, but so summer-friendly! As for the accessories I chose a pair of cat-eye shaped sunglasses (one of the summer trends in the world of sunnies) + a fun middle finger pendant I got long time from one of Montreal designers (the designer does not do them anymore alas).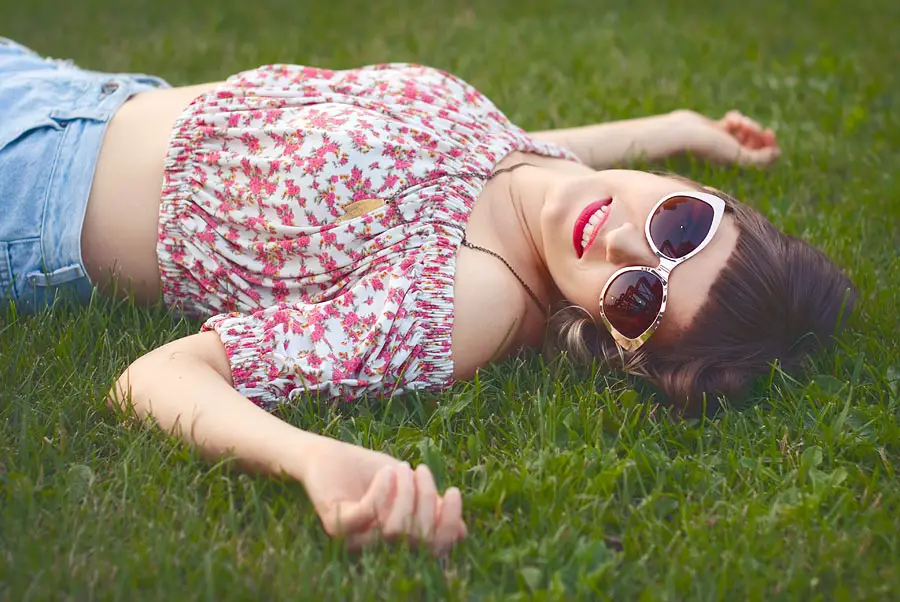 Off-The-Shoulder Top DIY Steps
So, if you want to make a top for yourself, follow my simple instructions. Required: sewing skills just a bit above "oh I don't sew".
Making this top is easy, but I had hard time describing the steps. I guess it is because all the top parts are rectangles, and it is hard to understand from the picture which exactly rectangle is used in a step. That's why this DIY steps' picture has text 🙂 To make it even easier, I created an off-the-shoulder top pattern – you can see it below the DIY steps.
DIY Steps:
DIY supplies you will need:

light fabric that drapes nicely, about 4′ of 60" wide fabric (calculated  for 36" bust size);
I took thin stretchy fabric;
elastic band 1" wide, about 7.5′  (calculated  for 36" bust size);
scissors;
pins;
a measuring tape;
thread;
a sewing machine;
a big safety pin (not pictured)

Measure the length of the top sleeve: from the top of your armpit crack to the place where the elbow bends;
Cut four pieces of fabric:

a front and a back:
the length is measured in the step#1 (add 2" if your boobies are big 😉 ) plus 2" for hem allowances;
the width is your chest size multiplied by 2;
two sleeves:
the length is measured in the step#1 plus 2" for hem allowances;
the width is 25";

Put the sleeves together and put the front and back together;
cut out two symmetric armholes: the width is 2", the length is 3";
if it looks too complicated see the top pattern below;
Sew the sleeve seams;
Sew the front and back side seams;
Sew in the sleeve armhole into the bodice armhole;
Fold the top of the bodice inward according to the width of your elastic and sew it  – do not forget to leave an opening to insert the elastic!
Hem the bottom of the bodice and the sleeve ends the same way we did in the previous step;
Cut 4 pieces of the elastic band (top, bottom, two sleeves) according to your measurements (measure around your shoulders, around your chest under the boobies and around the arms);
Attach the safety pin to one end of an elastic and thread it through until it appears on the other end;
Sew the elastic ends together and adjust the gathered fabric.
And now… Wear it!
Off-The-Shoulder Top Pattern
Here is the pattern you can use as a reference or as is if your size equals mine.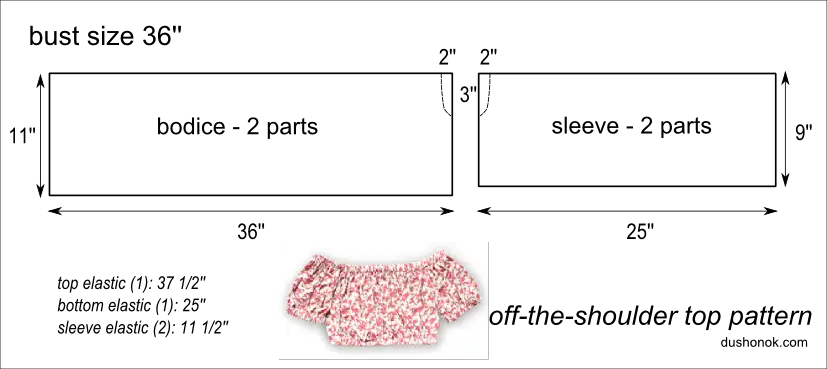 The Best Thing About My Top
The best thing about my top is that I can lift my arms and bring them down… and guess what – the top doesn't break! And stays in place! Isn't it great!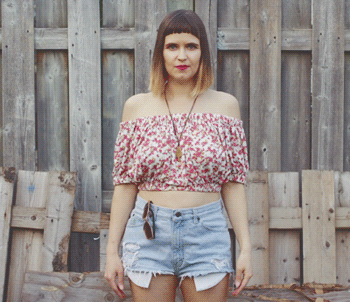 So guys, what do you think about my DIY?
Disclaimer: Yup, this post may contain affiliate links! If you buy something from me, I get some margarita money (not enough to buy a pair of shoes). Read more here.