Next up in my retrospective of the posts and pictures I shared with you this year, I want to highlight some of 2014's most popular posts in my blog. I will show you the 6 posts I published in 2014 that attracted the most interest of my readers.
So, what are these most popular posts? As you will see, the majority of them are the DIY kind. This is great, because I love DIY and I love writing about it, and you love reading about it! Let's take a closer look at the winners.
In this post I shared with you my way to reviving a stained dress with a tie-dye technique. I have a few more stained items and plan to revive them using this technique. And of course I will share my results with you, so stay tuned.
In this post I showed you how to make distressed shorts out of an old pair of jeans. One of the easiest DIYs ever! No wonder it got so popular. I already have about 3 or 4 distressed DIY shorts like this in my wardrobe, and it seems the next summer I will make more. Because you know, I am obsessed!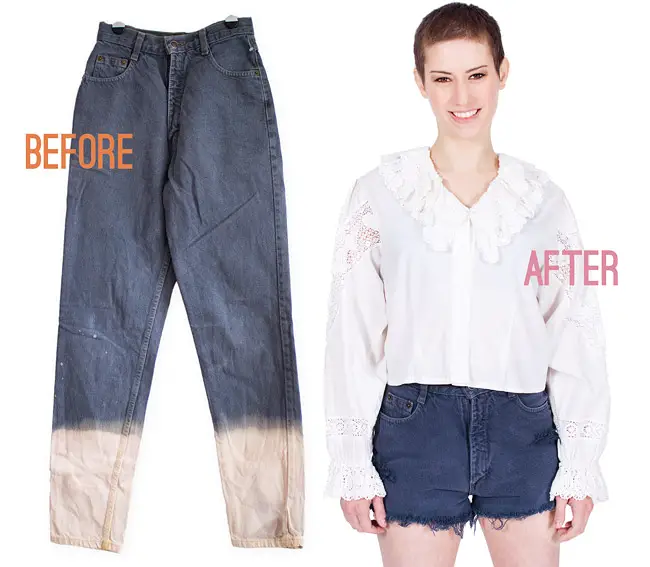 This was the first post of a mini series in which I showed how I wear my vintage sweaters. It is the only non-DIY post on the list. Why it got there? I think the reason is the spiritual eye necklace that always attracts the attention.
This post was a real hit thanks to all lovers of origami. It presents an easy and impressive yet budget way to decorate a gift for your best half. The St-Valentine's Day of 2015 is coming (relatively) soon, and I guess this post will hit the sky again.
In this post I showed how to use an old blouse to make a nice detachable collar. Simple, easy and creative – the best kind of DIY.
And here comes the winner! In this post I showed you how to convert wine caps into tiny colourful tea candles.
I am actually glad this was the most popular post of 2014 in my blog. Because this is the most original and creative DIYs I have ever done. Recently I have started collecting the wine cups again – I plan to make more of these candles. They are great for home decoration.
 Happy New Year to you!
the background picture for the featured image from www.wallpapervortex.com
Disclaimer: Yup, this post may contain affiliate links! If you buy something from me, I get some margarita money (not enough to buy a pair of shoes). Read more here.