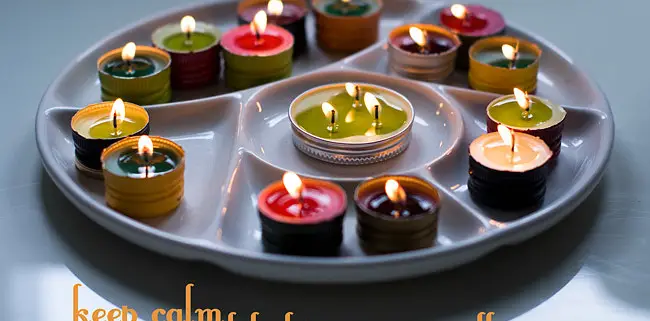 Do you enjoy DIY, candles, and drinking wine? Then this post is right for you! It is about how to make tea candles out of wine caps 😉
These are the photos of the results – and the DIY instructions can be found right after them.
DIY Supplies You Need
wine caps
microwaveable wax
wicks
wax dyes
double side tape

knife

scissors
Step By Step Instructions
Remove internal capping from the caps using the knife.
Cut the double side tape into small pieces and attach them to the wicks. Remove the paper from the other side of the tape and attach the wicks to the bottom inside of the caps. If a cap is very wide, you can put more than one wick.
Cut the wicks, so they would show up about 1/4" from the cap.
Melt the wax. You can use microwave, or you can use a double boiler as I did.
How to set up a double boiler
Select an old pot that is large enough to place your pouring pot into.
Add an inch or two of water to the old pot.
Bring to a boil.
Place your pouring pot directly into this boiling water. You may wish to place a metal cookie cutter, or similarly shaped item in the bottom of your old pot to elevate the pouring pot.
Lower the heat to a simmer; it is not necessary to have a rapid boil.
Periodically add water to replace water lost to evaporation. Do not let the double boiler run dry. It can quickly get too hot and overheat the wax. Being overheated,  the wax may reach the Flash Point.
Allow the wax to melt.
Once the wax is liquid, you can dye it. Remember that the liquid dyed wax looks much darker than the solid one.
Pour the dyed wax into the caps.
This dark blue colour will give baby blue once the wax cools down.
Mix two or more dyes together to achieve  various hues. Enjoy experimenting with colours!
After you fill the caps, let them to stay still for a couple of hours to properly cool and mature.
DIY Wine Cap Tea Candles Results
Once the candles are ready, place them on an appetizer plate and light up! Enjoy warmness and peacefulness of the little fires highlighting a grey winter day.
Make candles, not war!
Disclaimer: Yup, this post may contain affiliate links! If you buy something from me, I get some margarita money (not enough to buy a pair of shoes). Read more here.