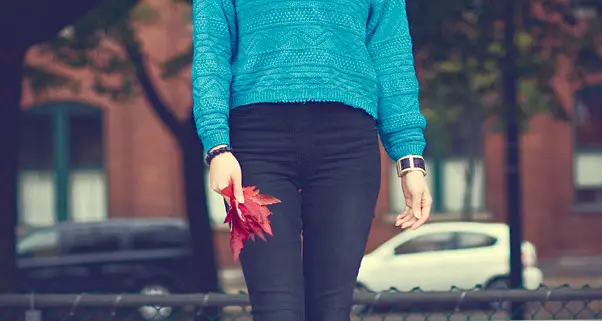 With this post I am starting a mini series of three posts about my fall wardrobe essentials: vintage sweaters. I will show you how I blend them into my modern wardrobe.
Sky Blue Vintage Sweater
So let's dive into the first one! Here I will show you a sky blue vintage crop sweater. Feel free to skip the details and to jump right to the rest of the pictures.
In this outfit I opted for a minimalist look and paired the sweater with a couple of basics from a modern wardrobe: black skinny jeans and black ankle boots with studded backs. Woo-hoo!
On my neck I wear an eye necklace. This is yet another thrift find of mine. I do not know where it came from or when it was made or by whom. It does not have any label. I am glad to have it, because the eye attracts a lot of  attention! And I love being in the centre of fashion attention 😉
I found the sweater last year in a local thrift store and immediately fell in love. What I like the best about it is the cut and the colour – especially the latter, because it flatters my eyes 😉 The plain solid colour looks interesting thanks to the woven texture with geometrical ornament. I like it that the sweater has no pattern, it's easy to wear it with almost everything.
When I am hunting vintage, I always look at garment's labels. Old labels are so different from the moderns ones. They have a distinct look and provided a very different information (style #, lot # – what's all this!). The label of this sweater looks so vintage! It allows us to estimate that the sweater was made around 90s or maybe 80s. The label states it is made in Canada and the brand is Pelican Cove; unfortunately, I could not find any information about the brand.
Behinnd The Scenes of "My Fall Wardrobe Essentials: Vintage Sweaters" series
While thinking about the concept of the series, I was hesitating between presenting all outfits in one post or showing them separately. In the end I decided against the huge single post. Featuring one sweater at a time would allow me to fully concentrate on each item and to make the posts clearer.
I still wanted to take all shots in one day. I brought all items and shoes with me and prepared in advance for changing on the street to avoid walking back home (mostly, choosing an appropriate underwear 😉 )
However, the autumn weather did not want to cooperate. After we did the first shots, it started raining. The rain was rather annoying than strong, but I still got worried about the camera. Fine electric equipment usually hates water and gets easy broken once getting wet. So, we had to go home. The next day the weather gave us a big smile and apologies. It was a beautiful Indian Summer day with warm sun and blue sky. It was such a joy to take pictures. I will show them in the next two posts.
More Photos Of The Blue Sweater
My boyfriend was again a camera man. He does not really know how to take pictures, and  I always give him a crush course before the shooting. He manages to forget it all before the next photo shoot 🙂 However, I have to admit that he does a very good job of catching moments that make the great photos!
The pictures were taken in my neighbourhood on a baseball stadium surrounded by maple trees. Their leaves now have this flashy red colour that makes Canadian autumn so beautiful. I couldn't pass by and collected a few from the ground as a bright accessory.
 Here you can see a chewing gum in my mouth, haha! I can easily chew through 2 packs of chewing gum a day!
The eye I wear on my neck  gives a weird "spiritual" reflection in the sun
Bonus: A photo of Sam I took while setting up the camera
Disclaimer: Yup, this post may contain affiliate links! If you buy something from me, I get some margarita money (not enough to buy a pair of shoes). Read more here.