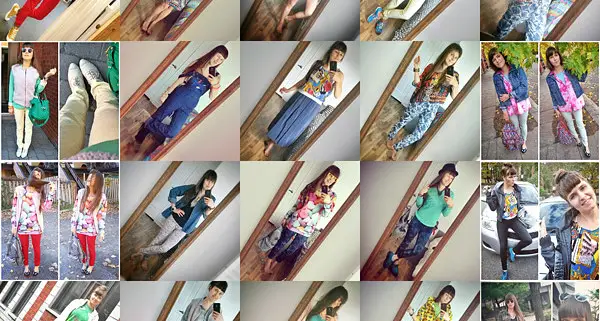 As the year of 2014 draws to a close, it's the time to review what the year was all about. Today I want to take a look back at some of my outfits from Instagram. In this post I have put together 22 colorful looks I shared with my followers in the past year.
But first I want to tell you a story about my cat Masala.
Usually I take selfies in the morning while getting ready for work. It has become almost a ritual. However, it often happens I skip this important part when I have to rush to work, which happens every time I woke up late. Often my cats are to blame. For example, recently Masala started meowing at night without any good reason (well, none of the reasons can be good for night meowing). Cats are not allowed in the bedroom, and I thought she was feeling lonely and wanted to be with her humans. For that reason I did not pay attention to her complains; however, it was impossible to ignore them. Masala meows in such a high pitched voice that makes her sound like a crying baby. Sam (my lucky having-no-problems-sleeping boyfriend) does not hear it, but I do. I sooo do. The mother-nature made women sensitive to high pitched sounds, so they could hear crying babies well. It seemed Masala knew about it and cunningly used it to her advantage. But I did not yield. In order to show her that the meowing has no effect I quietly stayed in bed. My message was clear: Humans are sleeping, meowing is pointless! In these confrontations I always won; however, the price of the victory was high.
I did not get enough sleep and got dark circles under the eyes. My colleagues at work got worried and started compassionately asking what happened. What kind of horrible things I am going through in my life that prevents me from sleeping? What kind of troubles? How could they help? I was touched by their attention, but had to disappoint them. The only thing that prevented me from sleeping was my poor cat who wanted something nobody knows what. My confession did not discourage the colleagues from help, and we had many serious-face concerned-tone conversations about what could make my cat unhappy.
At some point I thought I understood her. Masala loves to sleep in a closet on top of my bags. She used a few cotton totes to construct a cozy nest and spent her time there curled up in a ball. However, sometimes the closet got closed. You know, closets are actually made for being closed. Does the cat know about it? Probably not. It must have upset her, I thought. So, before going to bed I started making sure that the closet door was opened wide enough to let Masala in. And it helped. For one night. Then the meowing continued non-stop four nights in the row.
Aggrrrh.
And then I got it. I do not know how, but somehow our minds got connected on a deep level. I swear I heard her high pitched voice in my head telling me what to do. I approached the dresser, took out an old wool sweater, cut off the sleeves and put it inside Masala's cage. Masala was watching me carefully, and her round yellow eyes were glowing. When I was done, she came and sniffed the sweater… then got inside the cage and barfed on the sweater. After that the night meowing stopped. Completely. Who knows why… maybe she simply needed a soft and cozy mat to barf on.
As of my sleep… well, I still have a bad sleep, but this is a different story which I may tell you some other day!
The cat's story is finally finished, and here are the other 14 outfits I published on Instagram in 2014.
Let's be friends on Instagram! Follow me @dushonok, and I will follow back.
I post my outfits, cats and food and regularly comment the pictures of the others.
Disclaimer: Yup, this post may contain affiliate links! If you buy something from me, I get some margarita money (not enough to buy a pair of shoes). Read more here.