Aren't you tired of reading about my perfect life, in which all of my DIYs succeed and never fail? Ha-ha, of course you are not! But I still want to show you that I am a real human being and do not live in a fairy-tale land, and sometimes my DIYs do fail. This post opens a new chapter in my blog: Fail It Yourself. In this category I will share with you the stories of my failed DIYs, and hopefully it will help you to avoid my mistakes or maybe you will have a good laugh.
Besides, I could not find much information  on the Internet about how to dye acrylic yarn, so this post will be a warning to the crafters: Beware of dying acrylic yarn (and do not tie-dye it).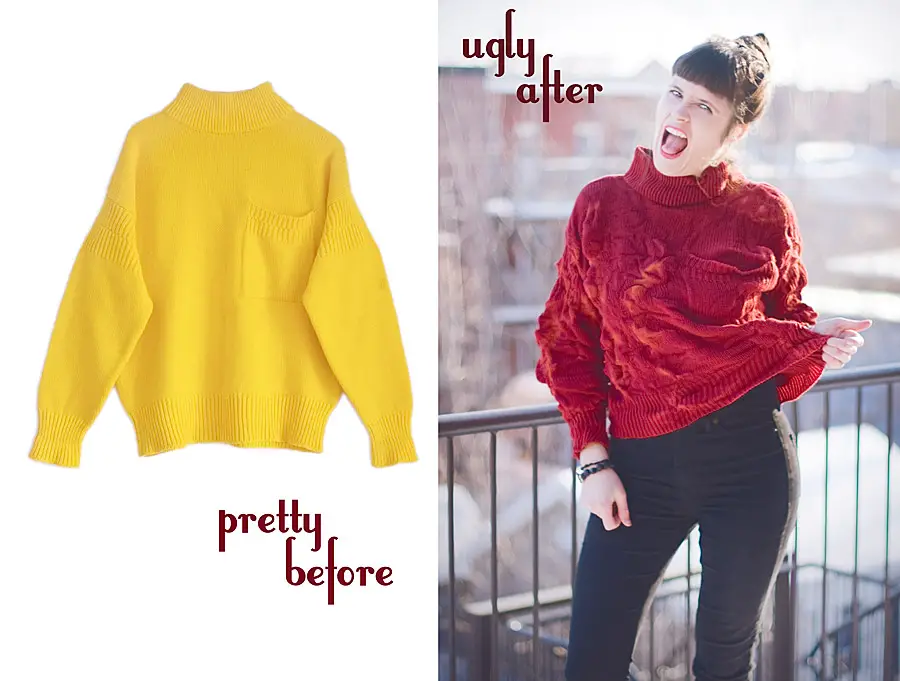 So yeah, I bought this lovely yellow sweater in a second hand store for almost nothing. I liked the cut and the color, and only at home I found out that it was stained all over the front. I got upset, but decided to take it as a challenge. Remember I saved a stained dress by tie-dyeing it? I decided to revive the sweater using the same approach.
The sweater was made of acrylic yarn, and soon I found out that it is hard to dye acrylic (read this great article How to Dye Acrylic Yarn and Fabric). Natural fibers (cotton, silk, wool) are easy to dye, since you can use a cold method that requires nothing but a bath or even a washer. But acrylic yarn is a tough one, and it can be dyed only using a stove method with a boiling solution. Yep, a perfect recipe for a disaster.
Disaster Recipe Ingredients Or What You Need For This FIY
a dye for acrylic, I bought Jacquard iDye Poly at Amazon.ca
an acrylic item, I took a stained second hand sweater
elastic bands
an enamel pot
Everything is ready for the adventure.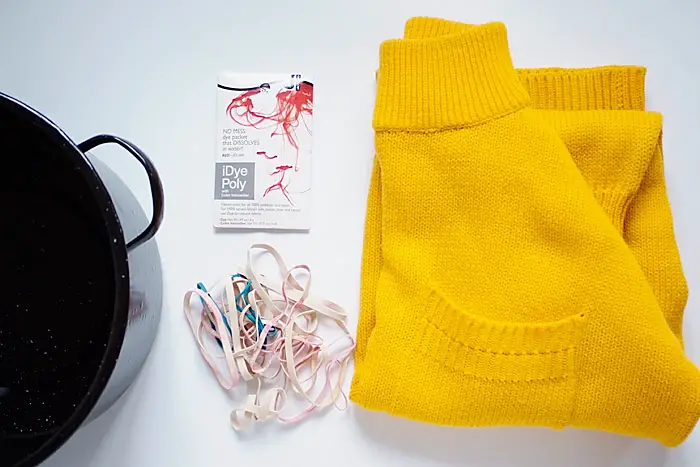 First I tied the sweater  with elastic bands (who knew it would be such a mistake!)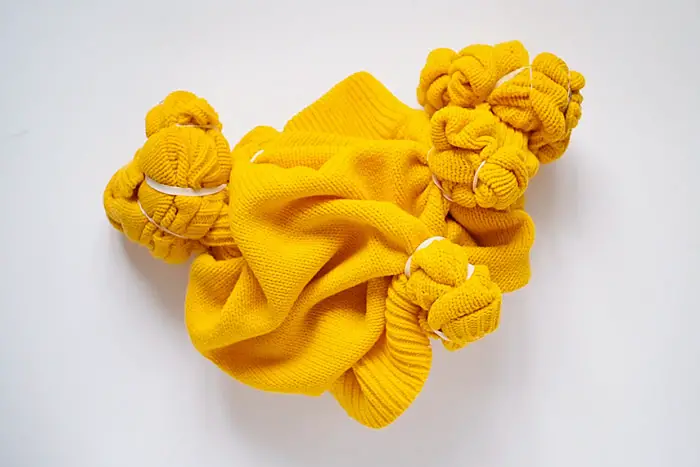 Then I followed the instructions on the dye package and put its content in the pot with hot water. The package contained the dye and a stabilizer, and I used both.
Oh yes! Do not forget to prepare a stick, which you will use to mix your dye solution. I realized I needed one only after putting the dye in the water. Fortunately I had a wooden stick of convenient length of 1,5 m (5 feet), so I used it.
Then I put the sweater in the pot. Looks pretty innocent, doesn't it? And then the solution started boiling.

After about an hour of inhaling chemical fumes of the boiling solution (I put the kitchen fan on max, but only it helped a little) plus another hour of waiting while the pot was cooling outside in the snow plus a bit more of waiting for the washer to wash the sweater, I got… this. A crumpled dark orange thing that looked like ten cows chewed it for a few hours non-stop. The wrinkles were basically boiled in and took a permanent shape. Yes, tying the sweater was definitely a mistake.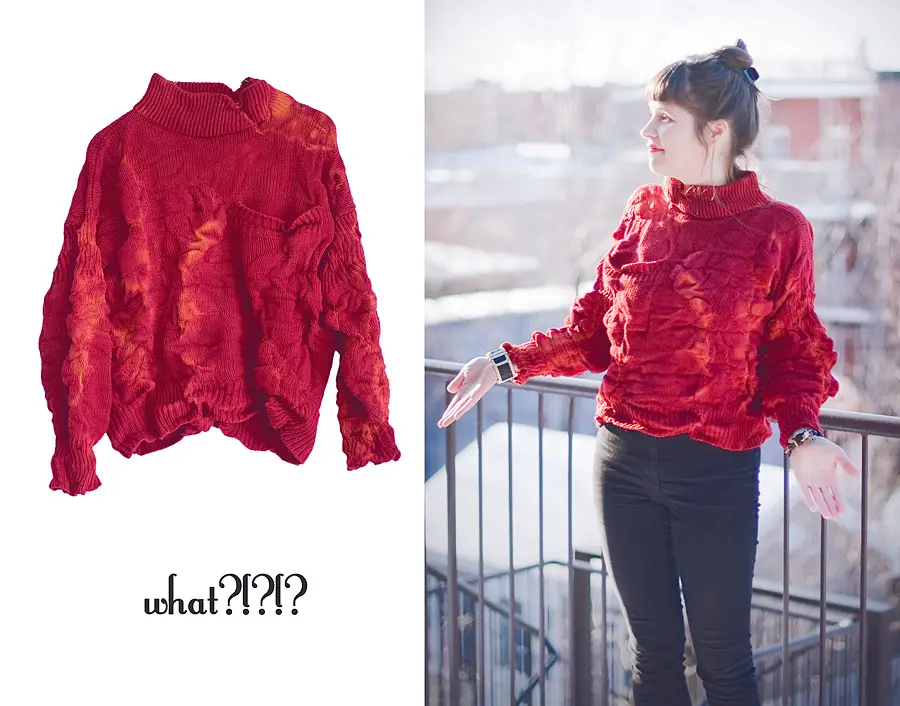 Good enough.. for a garbage bin!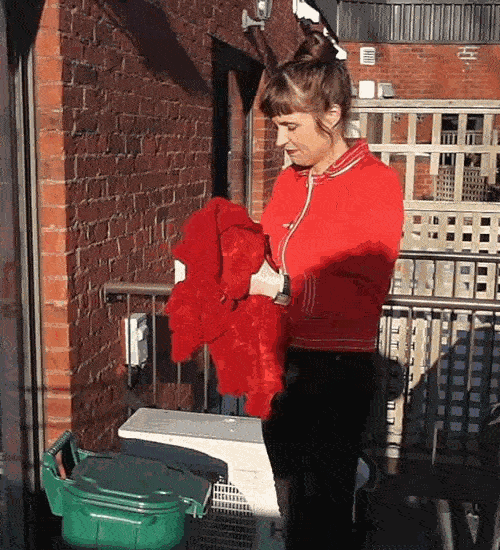 Oven
And the oven. You want to know what happened to the oven. Well, it bled.  Permanently. From a knob. During the dying process the oven got covered with paint splashes coming out of the boiling solution. I was constantly wiping them off, but some of the naughty droplets managed to hide behind the pot. They stayed there and penetrated into the finishing coat while drying. Nothing can remove them now. The next day my cleaning lady was in tears, she called me: "Nadya, I spent two hours cleaning the oven, I cannot remove the pink stains!" Yeah, I forgot to warn her. The fabric dye was too good. The stains will stay there forever to remind me of my great dying adventure, about how crazy brave I was.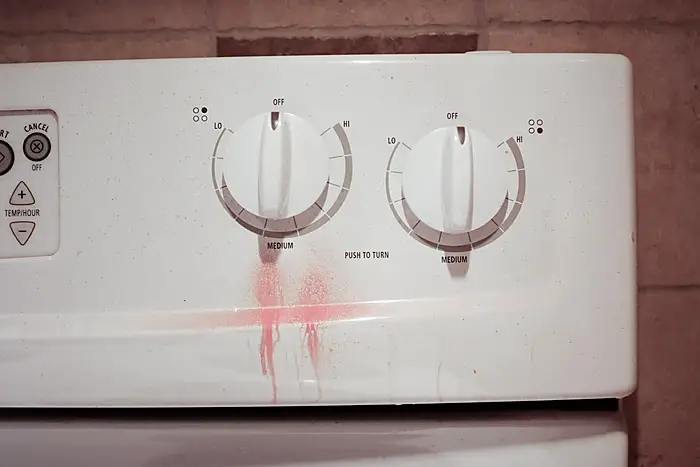 Fail it yourself!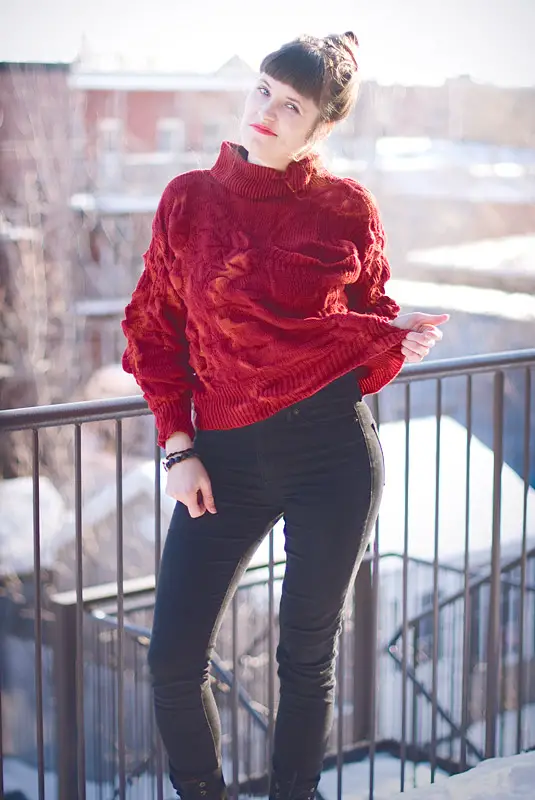 Disclaimer: Yup, this post may contain affiliate links! If you buy something from me, I get some margarita money (not enough to buy a pair of shoes). Read more here.