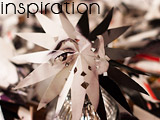 Christmas is coming soon! These days keep everybody very busy. We need to make hundreds of preparations such as buying a Christmas tree, choosing and buying gifts, preparing the menu, choosing a party outfit… And, of course, decorating the house! This is my one of my favorite Christmas tasks (choosing the outfit is another one without a doubt!)
While looking for an inspiration for a DIY decoration project, I have stumbled upon this cute picture.
It comes from the blog of a super talented photographer and artisan Elena Kovyrzina (and I am proud to say that Elena belongs to a Russian speaking Canadian community!)
Though I loved the simplicity and beauty of the  idea, I did not want to be a copycat! In addition, the original project was not sustainable enough for me.
Instead of paper napkins I decided to use paper snowflakes made of pages from a magazine. I will show you my project soon! Stay tuned!
Disclaimer: Yup, this post may contain affiliate links! If you buy something from me, I get some margarita money (not enough to buy a pair of shoes). Read more here.