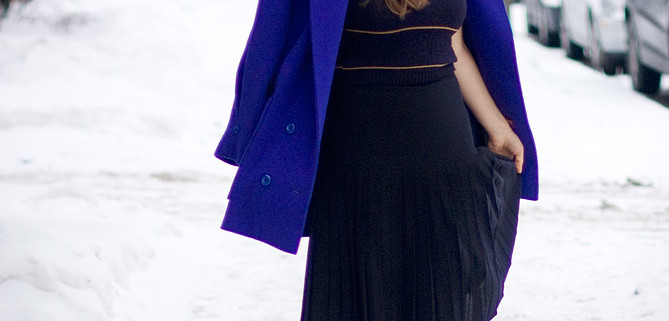 Introducing Project Re-Fab—collaboratively helping you re-imagine and recreate your unwanted garments.
Here, at Fripe Fabrique, we love collaboration and hatу throwing away stuff. We got on board a sewing genius Sonia from La Fabrique Ethique and a treasure hunter  Julie from Julinthesky and decided to do something with some oldie but goody quality garments. This is how project Re-Fab was born.  Every other week we post one item in our blog and ask our readers and Facebook followers what we should do with it: Style it or cut it? Next week we show the results.
Last two weeks we were working on the ESCADA skirt. The voters decided to style it, and we did just that!
We paired the skirt with a Betina Lou sweater, gold leaf Papiroga necklace, hand knitted Bolivian beanie in caramel from Bolilaine, and FF's vintage wool coat in this intense purple.

In this post I participate as a model and a photographer. My dear partner in FF Michelle was the stylist. I love the result we got!
Curious to see more? See all posts in Project Re-FAB here!
Want to participate? Like the Fripe Fabrique Facebook page or subscribe for the news on the Fripe Fabrique website!
Disclaimer: Yup, this post may contain affiliate links! If you buy something from me, I get some margarita money (not enough to buy a pair of shoes). Read more here.