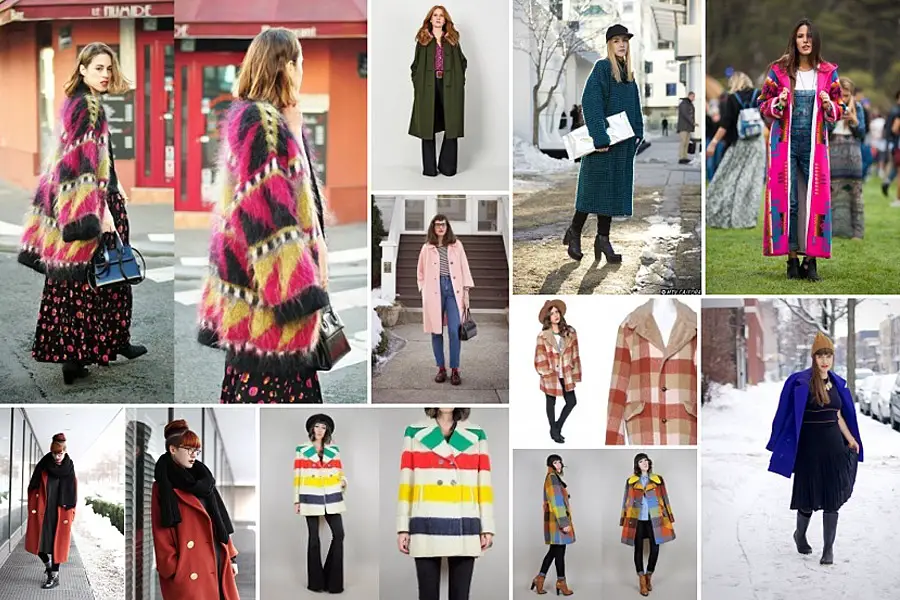 In this post I will show you 10 colorful vintage coats that can help you to improve your mood in winter.
Every winter I get sick of lack of color. It is so deadening outside! Grey streets, grey snow, grey people. Colorless depressed crowds crawling in the cold morning dusk to work. Ok, the weather treats us in a shitty way – but why the hell we cannot brighten it up? For some reason the modern fashion manufacturers strongly believe that winter is the season when everything should follow the death of the nature and be grey, black or dark brown – in other words dreadfully dull. Aggrhh.  I am getting sick by simply imagining it.
I have been always struggling to find a bright winter outerwear. Last winter in the end of February I was literally desperate to put on something bright, so I rushed to La Baie and bought a red coat, the signature Canadian Olympics one (will show it here soon, stay tuned). That coat was not even on sale despite of the end of the winter, but I did not care. My grey coat is great, and I love it, but seriously, I cannot wear it for more than 2-3 days in a row. I would just die!
In fact, I had hunted for a cheerful coat in a wrong place. Instead, I should have gone to vintage stores. Vintage coats come in so many colors. In the past the fashion world was not obsessed with depression and depressing clothing, and there used to be a great choice of coats of all kind of colors available. Exactly what the modern fashion lacks!
In addition to enhanced cheerfulness and positive way they affect our mood, vintage coats also cost less than the new ones. Still, they are made of quality materials like wool, and this makes them as warm as the modern ones. Win-win!
Let's see how modern fashionistas and online vintage store owners incorporate vintage outerwear in trendy outfits.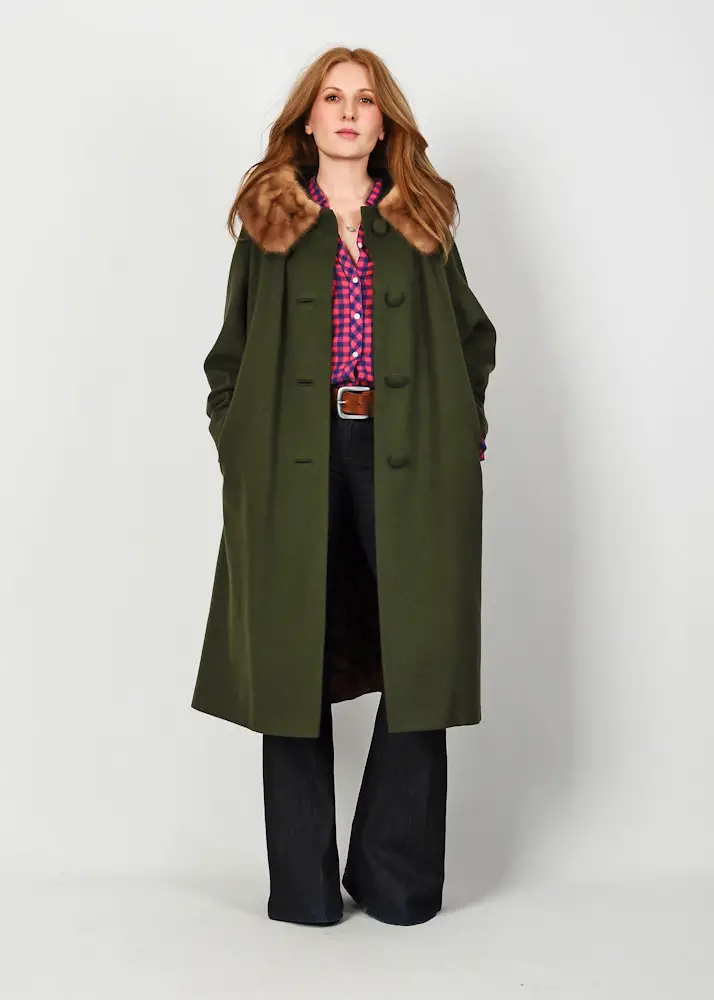 Vintage swing coat with mink collar made in 1960s from etsy.com
Vintage tartan coat made in 1960s from etsy.com
Purple vintage coat made in 1960s
Plaid vintage coat made in 1970s from etsy.com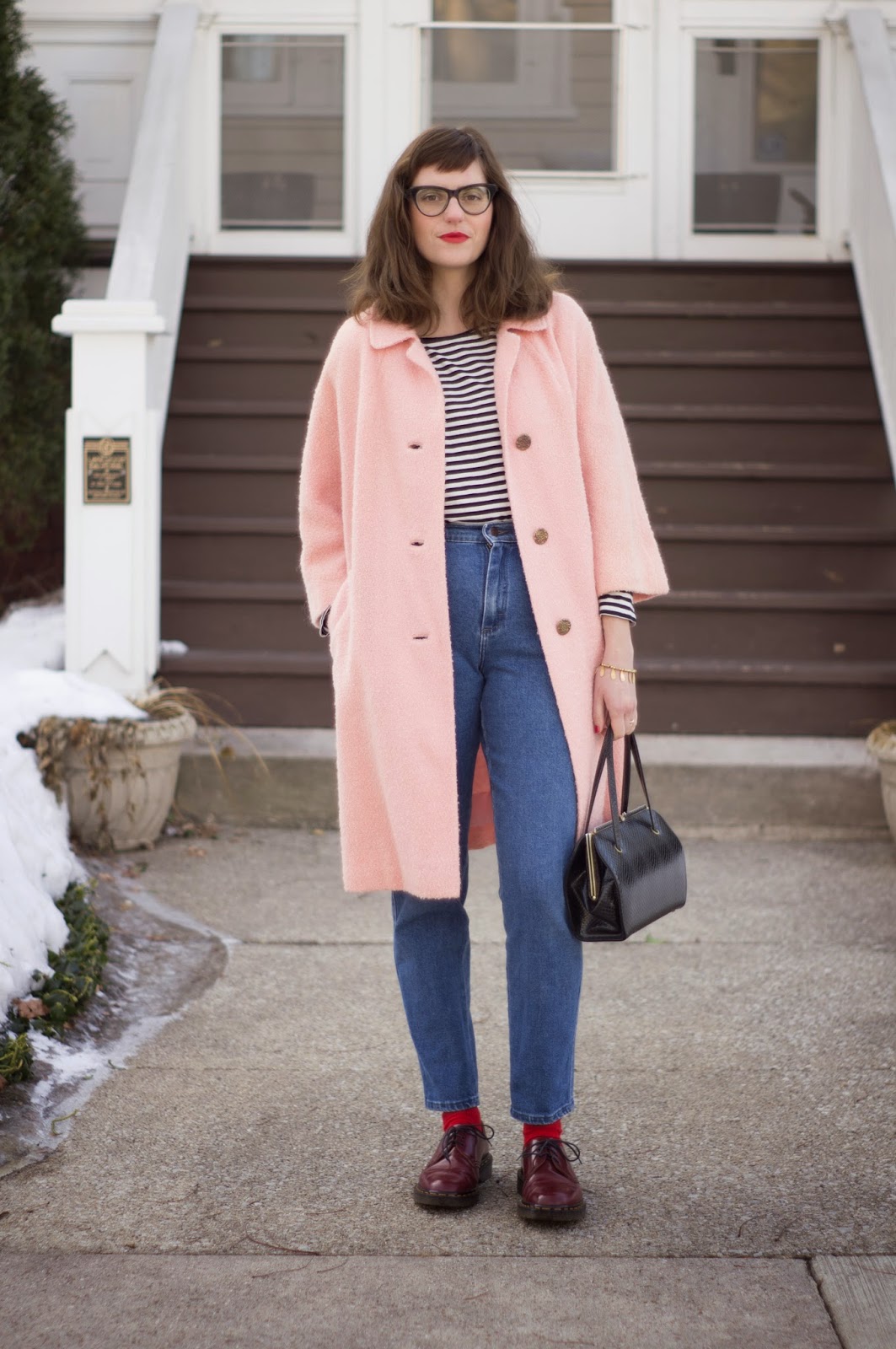 Pink vintage coat from hungryheartvintage.com
Hudson Bay vintage coat made in 1970s from etsy.com
Vintage houndstooth coat from lookbook.nu
Oversized vintage Christian Dior coat from www.kaluediary.com
Vitnage mohair coat from lookbook.nu
Folk vintage coat from www.refinery29.com
Disclaimer: Yup, this post may contain affiliate links! If you buy something from me, I get some margarita money (not enough to buy a pair of shoes). Read more here.