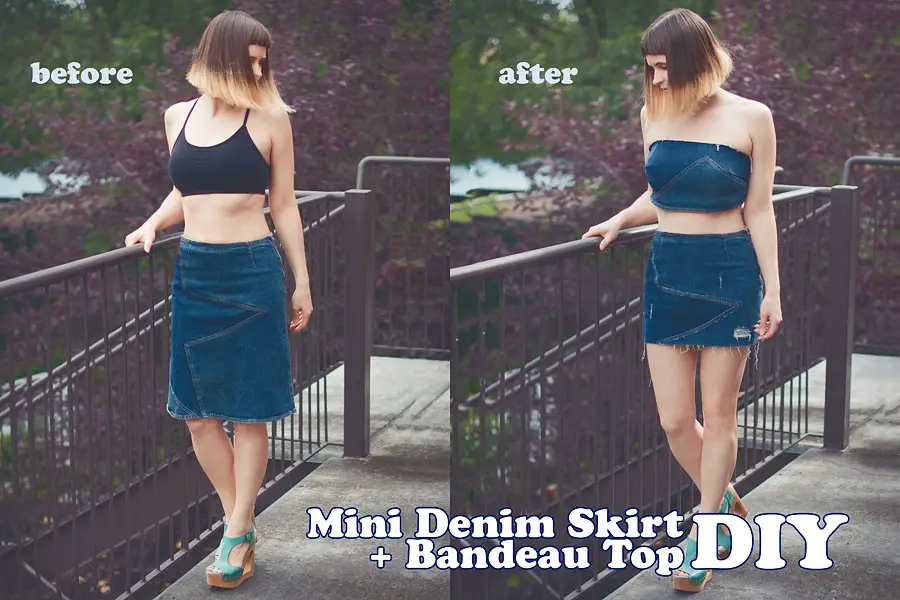 This story starts with a denim skirt by Moschino which I got from a friend of mine. My friend decided to stop wearing skirts cold turkey and was giving them away to anyone willing to take free stuff. I do not wear skirts either – well, at least the denim ones – but this one had a cool star and a bold brand name… Say no to Moschino, said no one ever! So I took it. Still, the bold brand did not help our relationship to develop, and it died quickly after I brought the skirt home. Eventually the skirt found its place in a bag with other not-so-cool things which I keep in hopes my fashion taste will turn its table one day.
And said day arrived – at least for the Moschino skirt! After finding out that denim skirts are back on track, I remembered about it and decided to upcycle it into something exciting… like a mini denim skirt + a bandeau top! Now instead of a skirt I have a veritable mini denim suit. How cool is that!
Woman From The Flintstones
This denim "suit" of mine reminds me of the girls from The Flintstones cartoon. I find it has the same fashionable sloppiness and casual chic of the fashion of the Stone Age. Don't you think I look like Betty Rubble? Let's see. Short-ass skirt? Check! Blue ragged hems? Check! Red lips? So check! Look, don't you think we look like twin sisters?
I can see how your eyebrows go up in a surprise and your mouth is opening to say "whaaaaat…".  But the truth is we are all Flintstones of the modern world regardless of how we look. How often do we yell "the Official Battle Cry " of shopping in the sales season:
Do you get it now? You do get it now!
How I Actually Wear My Mini Denim Suit
While dressing like Betty Rubble sounds amazing, unfortunately in the reality it is not practical to walk barefoot nor does the modern society approves it (sigh). So I had to come up with a more appropriate look.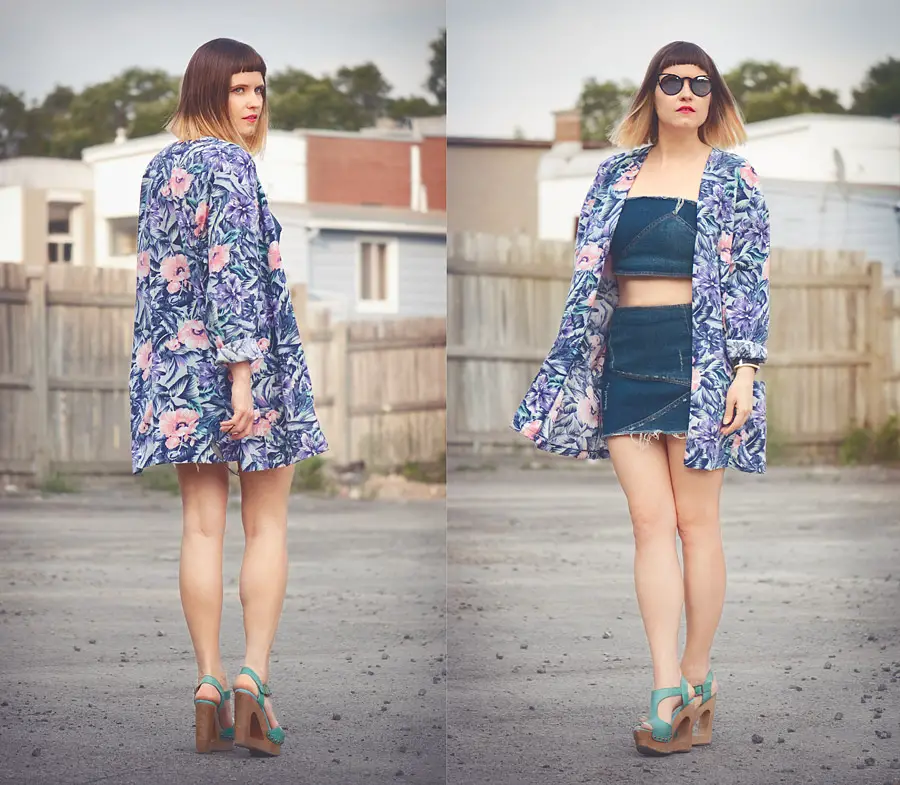 The mini denim suit turned out to be a quite stubborn duo. No matter what I was putting on with it, I looked like a sloppy slut (maybe because the skirt hardly covered my butt? hmmm) Eventually, at one of my second hand hunts, I found a weird blazer. It was an oversized vintage jacket made in 80s with pink roses, big dolman sleeves and the absence of fastening. It was so huge that my hands could not even reach the bottom of the pockets and the sleeves covered my hands up to the finger tips. Too big. But who cares! It seems to be a perfect match to the denim suit. Why? I guess because it is actually longer than the skirt and my butt's finally got covered!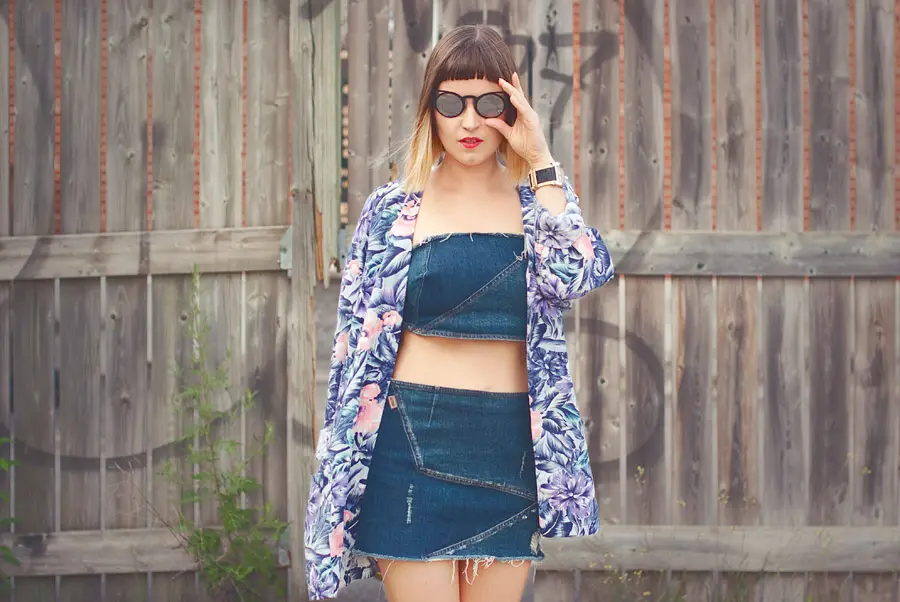 Mini Skirt + Bandeau Top DIY Steps
Ok, enough empty talks! Let's talk DIY instead. Here is how you can become the modern Betty Rubble.
For this DIY you will need:

a denim skirt (maxi or midi one would be the best);
wide elastic band;
a pair of scissors;
pins;
a measuring tape;
thread;
a sewing machine (not pictured);
an X-ACTO knife;
a piece of sand paper;
a piece of thick cardboard;

first of all, find out how big you want your top to be;
measure your booby from the imaginary top line to the imaginary bottom line (it should cover the booby, right!);
lay your skirt flat and cut said amount of inches from the bottom;
in my case I was worrying that the top would be too short, so I added extra 1" (2.5 cm);
and your mini skirt is basically done 😉 we only want to add some shabby chic!

make some small cuts with X-ACTO knife here and there and distress them using the sand paper;
find out more in my post about DIY distressed denim shorts;

ok, the skirt is done, now go back to the top;

we need to know how much to cut for the front part – for that measure the front part of your chest;
subtract 1" (2.5 cm) from the measurement to get a tighter fit;

cut the need amount from the skirt's bottom we cut off in the 3rd step;
Tips:

if your skirt has a particular pattern like mine, you may want to take it into consideration;
you can use the skirt hem for the hem of the top like I did;

apply the prepared rectangle to your chest to see how much you need to take in for the side tucks;
pin the tuck on one side;
sew the tucks; cut off the seam allowances and press-iron open;
now we want to know how long the back elastic should be:

measure your back from side to side;
subtract 3" (7.5 cm) to achieve a tighter fit;

sew the elastics on the sides of the top;
make the lower one shorter by subtracting 1/2" (1 cm);
fray the top hem of the top using X-ACTO knife;
And now… Wear it!
DIY Bandeau Top Pattern Schema
If your chest has the same size as mine (36") you can simply use the measurements I made for my top. Here is the pattern schema I made for you: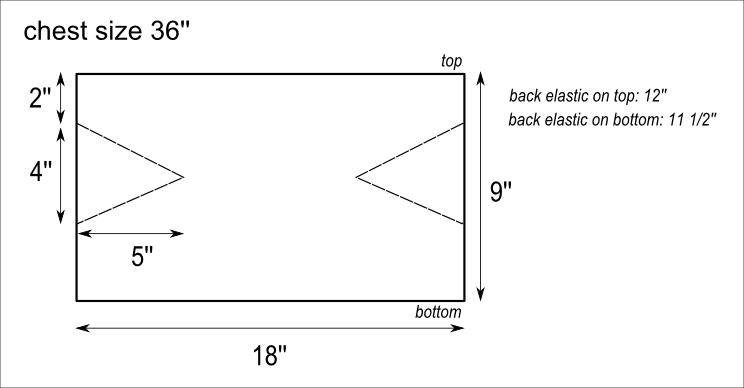 In order to measure the chest size, put the measurement tape around the widest part of your chest. Keep it parallel to the floor and make sure your arms are relaxed. For an accurate measure, ask your friend to do it.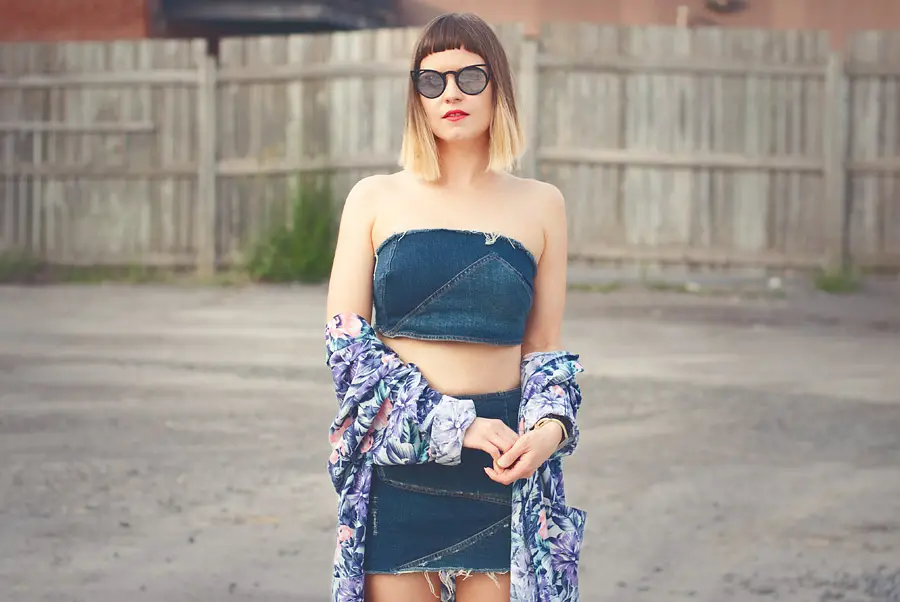 Happy DIY-ing!
Disclaimer: Yup, this post may contain affiliate links! If you buy something from me, I get some margarita money (not enough to buy a pair of shoes). Read more here.