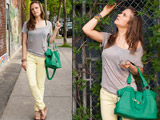 Last spring, while browsing my favorite DIY blogs, I spotted many projects with safety pins. I loved the idea from the very first glance! It seemed to be super-easy to do, plus I got too many boring t-shirts in my closet.
Here is the original basic t-shirt.
I bought two boxes of safety pins at Dollarama for the total price about $2.50.
I needed only the silver ones, so at first I had to become Cinderella to separate them!
Here is the result! The golden pins are sorted away, and the silver ones are sorted by size.
First comes the neckline.
Initially I wanted to use the medium ones to get a bolder effect, but there were too few of them. So, I took the small ones.
Attaching the small pins was the longest part of the process. After some experimenting, I decided to make the distance between the pins approximately 1 cm.
The biggest pins came in handy, too. I attached them to the pocket.
Then, I made two small cuts in the place around my waist line and attached the medium pins.
Safety pins!
In total the t-shirt now carries six big pins on the pocket, six medium pins on the cuts, and sixty-four small pins on the neckline.
Aaand….
Here comes the result!
I have worn it sevral times already, and I can tell you that it is easy to look after.
Initially I intended to wash the t-shirt by hand, since the fabric might get damaged by the metal pins. However, by mistake, I put it in the washer with all my other clothes, and it survived! The pins and cuts and fabric were all intact. No need to bother with manual wash!
Another thing that worried me was that my long hair might get stuck in the pins. So far, no problems here either! The pins close well, and my hair does not get caught into them.
Happy safe pinning 😉
Disclaimer: Yup, this post may contain affiliate links! If you buy something from me, I get some margarita money (not enough to buy a pair of shoes). Read more here.