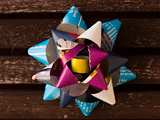 Christmas is almost here! Are you ready for the celebration? I am not: I still need to wrap the gifts!
This year I decided to go with 100% sustainable gift wrapping. I made gift bows out of old photo magazines and used package paper as wrapping paper.
While making the bows, I also made a small DIY for you 🙂
Take a colorful page, for example, with a contrast ad picture, and cut it into strips with different length:
three strips, 10.5"
three strips, 9.5"
two strips, 8.5"
one strip, 3"
All the strips should have the same width 3/4".


Twist the long strips into a double 8-shaped loop. For this kind of bow, you need to make the loop corners sharp.
Roll the short strip into a single loop.


To fix the loops, staple them in the center.


Then assemble the strips together by fixing them with glue.
Do the longest ones first. Then assemble the medium ones and glue them in the center of the longest ones.


Assemble the shortest strips and attach them to the rest of the bow.
Glue the single loop in the center to finish the bow. You are done!


You can make different bows that look like flowers.
Cut off six really thin (about 1/4′ width) strips with the length about 10". Twisted them into a double loop with round loose corners. Glue all together while distributing the loops evenly. Put a star stud or some other stud in the middle. And here come the flower bows!
Merry Christmas!
Disclaimer: Yup, this post may contain affiliate links! If you buy something from me, I get some margarita money (not enough to buy a pair of shoes). Read more here.