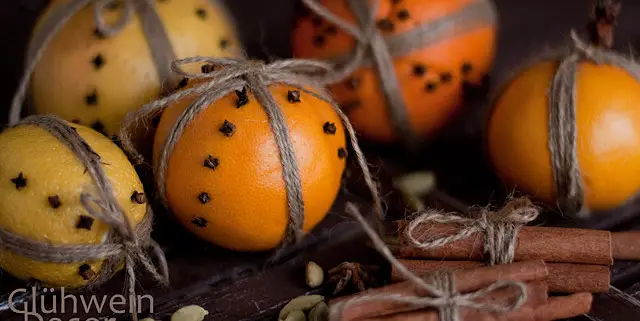 While reading blogs to get more winter decoration ideas, I stumbled upon a pretty colorful decoration made of spices and oranges. It looked fresh and unusual, so I decided to make it for my home. While preparing the fruits, I realized it reminded me of a great winter drink: Glühwein! Glühwein (mulled wine, Glintwein) is a hot beverage made of red wine, sugar, spices, and citrus. It is very popular in Europe during the winter time. The spices used in Glintwein are white gloves, cinnamon, anise – exactly the ones I used in my decoration. No wonder I called it Glühwein Decor.
I took oranges, lemons, and grapefruits and wound some jute rope around them. Then I took a handful of white gloves and stuck them into the thick peel of the fruits.
I also used star anise to decorate the small oranges.
Cinnamon sticks tied together with the robe made a nice gentle addition to the bright color of the citrus.
Star anise has a pretty shape and strong smell. The white gloves smell, too! Love it!
On the New Year night, I will cut the decoration into pieces and will make some tummy-warming tasty Glühwein!
I will share with you my recipe:
1 liter of cheap red wine

1/2 cup of sugar (can be replaced with canned sugar or even melasse for a more original taste)
1 medium orange
2 sticks of cinnamon
2 pieces of star anise
20 or so pieces of white gloves
Put the sugar into the wine. Start heating the wine, but try to not bring it to boil. Cut the orange into pieces of size about 2 x 2 cm (1/2 x 1/2"). Put the spices and the orange pieces into the wine. Keep heating the wine for additional 10-15 min. Then pour into cozy mugs and enjoy with friends!
Happy New Year!
Disclaimer: Yup, this post may contain affiliate links! If you buy something from me, I get some margarita money (not enough to buy a pair of shoes). Read more here.