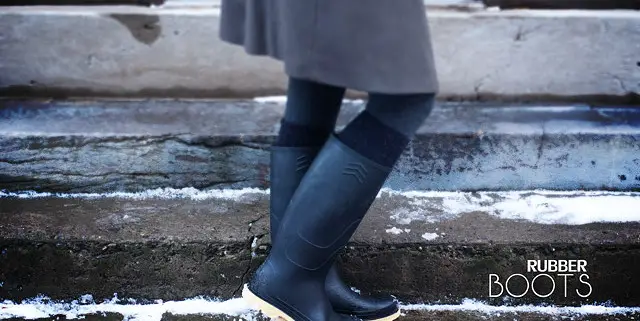 What is your favorite winter footwear? Mine is definitely rubber boots! Only rubber boots can protect my feet from getting wet while strolling along streets in a cold mixture of snow, water, and mud. Also, they make the look trendy when being paired with thick knee-high socks! Of course, the boots may not be as warm as the regular winter ones, but this problem gets easily solved by putting in warm inner soles.
Last winter I got super lucky and found a pair of great black rain boots at a second hand store. They cost only $5 or so and were in perfect condition. Dull black color is not something I usually opt for, but these boots were an exception. They got a yellow sole that makes them stylish and zesty. I was so sold!
These are my self-portraits I took in the beginning of the last year. Look how perfectly well the rubber boots have fitted my winter wardrobe!
The pleather peaked cap was found at one of the clothes swaps I volunteered for.
The white scarf is second hand, too. I love its crocheted pattern with square holes.
This hat belongs to my boyfriend. Sometimes I like to steal his stuff to update my looks.
Disclaimer: Yup, this post may contain affiliate links! If you buy something from me, I get some margarita money (not enough to buy a pair of shoes). Read more here.