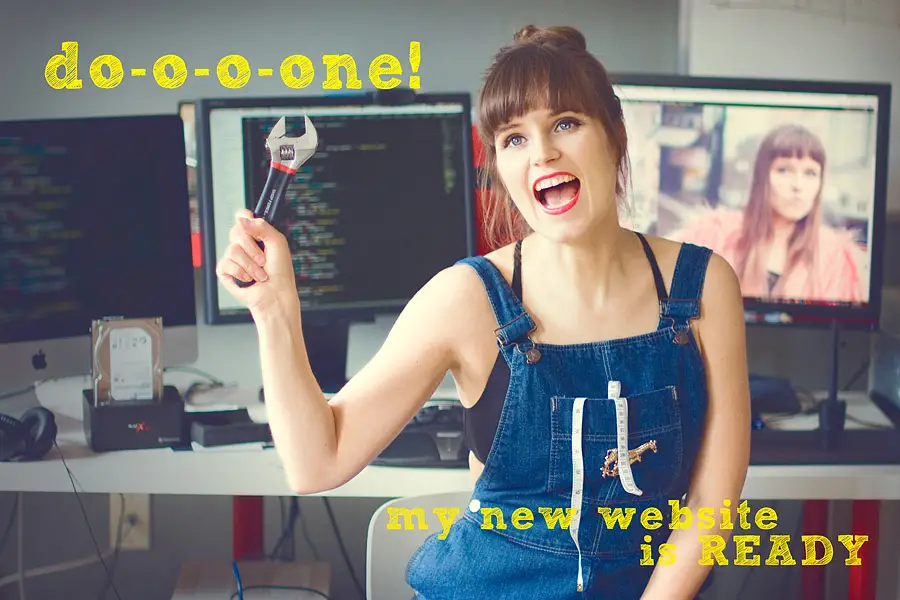 Finally! My website has moved from WordPress.com to a self hosting and got a new shiny skin!
What's Harder: Migrate a WordPress Site Or Use a Wrench?
Thanks to a special import and export plugins the blog migration took me 3 simple steps: install an importing plugin, export posts, import posts. Done! It was all finished under 15 minutes.
As for a wrench.. How would I know 🙂
Two Great Websites I Used For Inspiration
The most difficult part was choosing a new theme and then setting it up. My obsessive nature often drives me nuts, and this time is was so the case. During these weeks all I could think and talk about were WordPress themes. I wanted something colorful but not too flashy, free but full of features, flexible but easy to setup. What made it even more difficult was the vast choice of free WordPress themes out there. I felt like at least half of the entire planet (you know, all 3.5 billion people) was into the WordPress theme business. It was overwhelming. Eventually I narrowed my search down to the magazine style themes that are designed to build something like a news website. Good!
This is exactly what the websites I was inspired by were using.
One of my favorite fashion+lifestyle blogs, The Stripe by Grace, recently got a major face lift. I liked how well the main page is organized. It is image-focused with clear sections and a polished style. Grace put an extra emphasis on the community side of her blog. It shows how many comments each of the posts posted on the main page has. I really liked this feature: It makes it so easy for a reader to see the most interesting posts that have invoked thorough discussions. In one of her recent posts Grace talked about the website update and how she hired a team of web developers to re-do it from scratch. The guys did a great job!
My other favorite website is ISpyDIY by Jenni. Jenni has been my DIY inspiration for years, and her website is a great example of an airy, colorful and playful webdesign. The style of the pictures is essential to achieve this airy feeling, and Jenni is excellent at shooting great photos. I love how bright colors pop against white background and how bright walls are used as the photo backdrops.
Freebie Is Not Goodie
In total I tried out about 40 free themes. Pheeuf! Eventually I realized that if I want to get a flexible theme with a good customer support, which is very important for a newbie like me, I should toss away freebies and prepare some money to spend. In one of the theme review articles, I stumbled upon a paid theme that really stood out thanks to its clarity and airiness. Also, the authors provide an outstanding customer support by running a forum for the users to answer their questions.  The theme was Enfold by Kriesi. I looked at their demos… and it was a love from the first sight. Paid $58 and never looked back!
So, Where Is The Result?
However, buying a theme was not enough to finish the project. I still had to set it up, and it was almost as hard as selecting the theme. What layout to choose? Should the main page have a small slideshow or a full page carousel? What to put into the sidebars? How to showcase the best content? Awwwwww! I am not a designer, so I struggled. I kept feeding my creativity off my favorite websites; however, the final layout evolved into something very different. A full width slider and a transparent menu allowed me to showcase my best pictures in high resolution, and these features won my heart!
So yes, to check it out, go to the main page. I know it still has a few glitches here and there, as  it is still a work in progress. However, the overall structure is finished, and I hope it looks good and is convenient to navigate.
Tell me what you think!
Disclaimer: Yup, this post may contain affiliate links! If you buy something from me, I get some margarita money (not enough to buy a pair of shoes). Read more here.