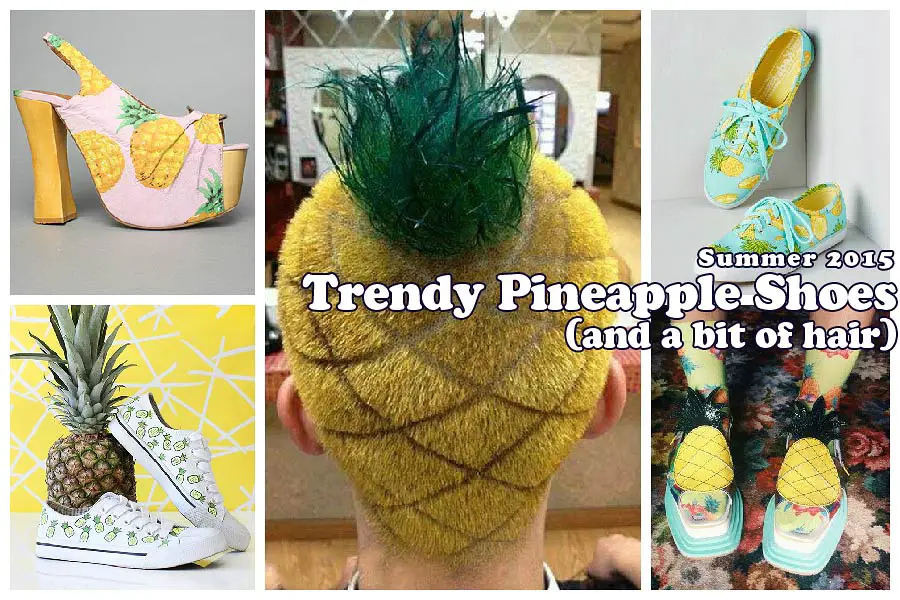 Pineapple is such a voguish fruit. Fashion designers have been happily putting it on bags, sunglasses, jewelry, shoes, etc in excessive quantities.  Pineapple is everywhere. Nobody can resist its charm. Could you imagine that even my boyfriend recently got pineapple hair? Not like this one:
but more like this one:
I am not sure whether I feel disappointed or relieved by his choice 🙂
But let's put aside exotic hair and focus on the other end of the body! I mean feet! (and what did you think of? 😉 )
This year 2015 pineapple shoes have become even more popular that last summer when the trend was set. Nobody knows why, and even the pineapple scientists get puzzled by this phenomena. I also felt a victim of the exotic look of the fruit. My next DIY will be exactly about how to make a pair of pineapple keds. And for now let's see what shoes I got inspired by!
DIY Pineapple Shoes
DIY Pineapple Shoes by Sea Lemon are one of the most colorful DIY shoe projects I ever seen. These shoes were made for White Shoes DIY Challenge organized by HGTV Handmade. Just think about it… White Shoes Challenge! Can you imagine the shoes were white before?! 
Jenny from I Spy DIY has recently made her own pineapple shoes. She took white sneakers and simply drew pineapples all over them. Great DIY! But not for me. I am such a klutz when it comes to drawing. No way I can ever draw such pretty pineapples!
This is more of my kind of DIY. I think Joanne from blog.sarenza.co.uk just nailed it down. Or should I say studded it down? Either way the shoes are wicked cool!
These ones are technically not shoes. They are called barefoot sandals. But I would call them top foot patches. I think it is a very smart way to get pineapple-shaped white spots on your tanned feet.
Non-DIY Pineapple Shoes
Now let's see how the shoe manufacturers expressed themselves in the form of pineapple.
Jeffrey Campbell decided to go with little cheerful hooves. Not that I do not like wedges (I adore them!), I am just not sure I like this shape. But I do like how the  pineapples look on pink!
Tory Burch decided to keep it simple and at the same time get rid of shoe stock leftovers from previous seasons. Still, these cuties are so popular that I had hard time finding the ones that were not sold out! Even on toryburch.com they are currently not available. I am late to this pineapple party 🙁
These cuties would go so well with the above-mentioned pineapple hair. Pineapple socks combined with pineapple shoes (and floral carpet) bring pattern mixing to the whole new level.
The manufacturers love combining sea blue with yellow pineapples.
And here come my favorite pairs. Pineapples + jelly is a simple formula on achieving the ultimate shoe-orgasm. Which one do you like better, the heels or the flatforms? My heart belongs to the flat ones 🙂
One Of The First Pineapple Shoes
These silk cuties are made around 1751.  Some may say that this is not exactly the pineapple pattern. Some see pomegranate and others see gooseberries (whaaat?). But I believe it is pineapple, so let's leave everybody with their respective opinion. After all it is a free country (I mean Internet!)
So guys, tell me: Which pineapple shoes you liked the best?
Disclaimer: Yup, this post may contain affiliate links! If you buy something from me, I get some margarita money (not enough to buy a pair of shoes). Read more here.