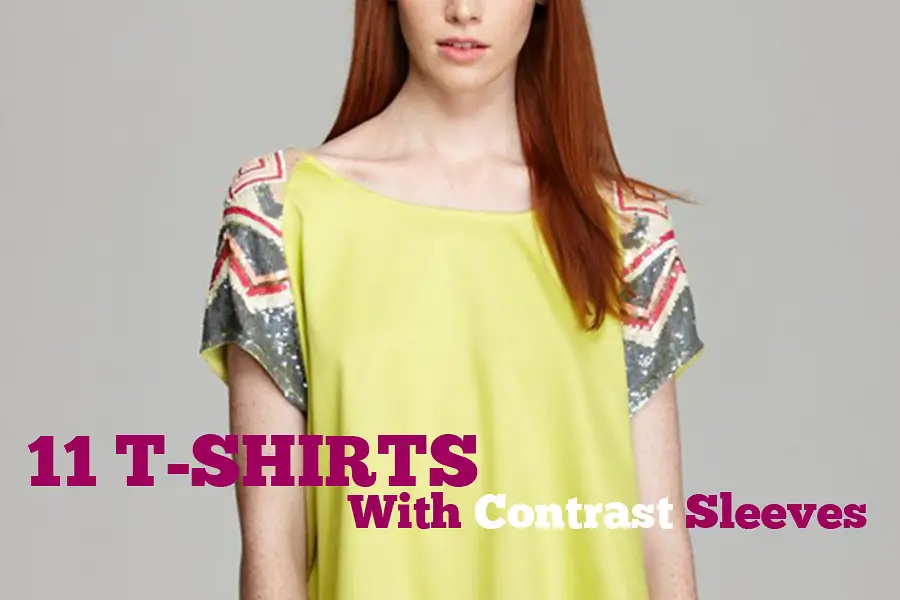 Today I want to show you 11 t-shirts with contrast sleeves that are not afraid of stand out. One of these t-shirts was an inspiration for my new DIY. Can you guess which one? 😉 Tell me your guess in the comments; the answer (that is the DIY post) will be published next week 🙂
I love this trend, because it is not that trendy (hehe) and thus it helps to stand out from the crowd. When was the last time you saw a contrast sleeve t-shirt on the street? Exactly! And it's the best thing for me when people turn their heads to look at my outfit.
So, let's take a look how the sleeves can attract attention!
High End (Meaning Fancy) Contrast Sleeve T-Shirts
Some girls know how to creatively stain their clothes. I am not one of them. Every time when pieces of food drop out of my mouth, they create only ugly stains on my chest – nothing close to this creative creation.
DIY Alert: You can make one yourself! Use this technique from Spider-Man (you may want to put a fan in front of you to have more beer flowing to your chest):
Sparkly shoulders! This tee is a great garment to wear when you want to perform an intense shoulder shake dance (check out Beyonce`s moves below!)
Day and night or night and day? My head is a bit spinning when I look at this tee (I am out of animated jokes. See cheezburger.com if you want more)
Here is a perfect example of how to look super coordinated by matching contrast sleeves with contrast flatforms.
Ok, I do agree this one looks a bit boring, but it`s the material that makes it special! It is made of leather, and from its look I can guess it is super soft. If I had a top like this I would be constantly petting it… again and again… even when I wear it…  I would look like a total weirdo!
Low End (Meaning Fun) Contrast Sleeve T-Shirts
These sleeves are very re-assuring and should be worn in the difficult time of your life.  Ne t'inquiète pas, tout s'arrangera. Don`t worry, everything will be fine!
"I think I won't go out tonight" Because you want to cuddle with you new friend, a contrast sleeve t-shirt, right?
Power clashing! My most favorite type of clashing!
Contrast sleeves, smileys, doll heads, London! It can't get any better that that!
Gentle and modest color blocking. Suitable for shy people.
From Other End Of Universe (Meaning Weird) Contrast Sleeve T-Shirt
Believe me or not, this is the least weird look by Junya Watanabe from the last Paris Fashion Week.
Still it's very alien.
Or maybe very Samus? You know Samus, right? A main character from a sci fi action-adventure game Metroid made by Nintendo. Samus has a real cult following. The cool thing about it is that while it looks like one of these super strong pumped-up robots…
…in fact it is a girl! Samus was the very first female character made for a playable male-dominated role in a mainstream video game: "[F]irst […] femme de force that didn't rely on a man to save her" (Wikipedia).  Gamers just loved her.
And as you can see she wears big BIG round shoulders! I wonder if Junya Watanabe got inspired by her costume… hmmmm… quite possible!
So guys, can you guess which t-shirt has become an inspiration for my next DIY? 😉
Disclaimer: Yup, this post may contain affiliate links! If you buy something from me, I get some margarita money (not enough to buy a pair of shoes). Read more here.