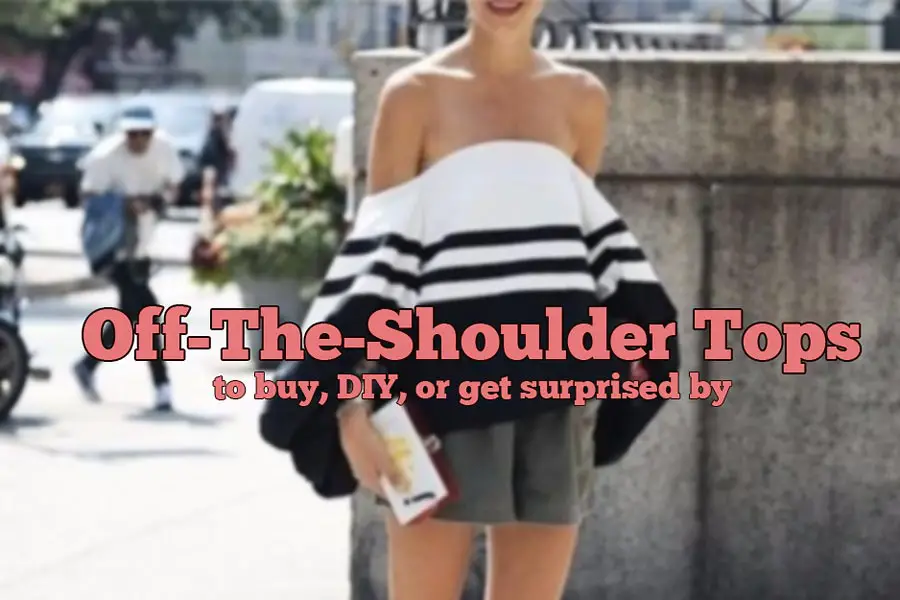 It is Friday again (my most favourite DOW), and it is time to get some fashion inspiration! Today my post is about off-shoulder tops: The ones to buy, DIY or get surprised by 😉 The trend started last summer, and I hope I am not too late to jump on the bandwagon. Probably not – it looks like this summer we will continue enjoying its sexy look. And yes, you guessed right – this is a fashion inspiration for my next DIY, which will be out in one week!
Small update on the post schedule side. Starting from now I will be a lazy piggy and will go with a laid-back posting schedule. It means that one week I will post a fashion inspiration and the week after I will post the DIY. So, it will be one post a week rather than two, and the main posting day will be closer to the end of the week. So expect to see the off-the-shoulder top DIY next Friday (my most favorite DOW) or maybe Thursday (my second most favorite DOW). Aaand btw, if you do not want to miss any post aand want get some sweet secret extras in the future, you can totally subscribe to my newsletter! The form is in the top right corner of the page 😉
Off-The-Shoulder Tops Here And There
Here are a few outfits with off-the-shoulder tops I liked – and the links to where to shop them.
This photo is truly colour therapy in action! Love it how Nydia combined a crimson top with blue high waisted striped pants, yellow door and the blue and white wall. Not only the striped wall and the pants match each other perfectly, so do the blouse and the bricks! Good job on assembling the outfit and the photo!
Tender whitish pink and denim blue is such a refreshing combination. Am I hallucinating, or the backdrop again matches the outfit? Can't be two times in a row!
Love the outfits by Nasty Gal! Maybe it's because the girl has such long legs? They take like a half of the photo.
But Why Buy When You Can DIY?
But why buy? Better DIY! My off-the-shoulder top DIY will be out the next week, and for now I want to show you a couple of DIY projects that were done by the finest crafty ladies Michelle and Geneva.
Michelle from FripeFabrique did a very creative DIY. She took a vintage blouse and converted it into an off-the-shoulder top. A perfect project for crazy fans of upcycling like myself!
If you are looking for something simpler, here is a DIY by Geneva from apairandasparediy.com. All you need is a piece of cotton fabric, some elastic band and minimal sewing skills!
When Too Much Is Too Much?
And here comes my favourite part of the post! When too much is too much? Let's see.
This is Leandra from manrepeller.com and her sliding blouse! Rosie Assoulin (the blouse creator) is a super talented designer, and I love her creations. Like this one – isn't it a prefect fabric sculpture. But still, I wonder if Leandra had troubles lifting her arms: Her big sleeves look quite heavy!
I am sure Mira Duma had no problems lifting her arms. On the contrary I am afraid she might have been blown away by wind, since her blouse looks like a nice sail. Or maybe a parachute. I wish I were brave enough to wear something like this!
If you are neither crafty nor rich, you can simply make a off-the-shoulder top out of your shirt. Simply unbutton it and pull it down over your shoulders. However, I am not sure whether the shirt will stay this way for long time… I guess it could stay long enough for a paparazzi to spot you. And you definitely should not raise your hands, otherwise the off-the-shoulder magic will disappear. Keep your arms tucked and walk like a penguin!
So guys, tell me – which off-the-shoulder top is your favourite?
Disclaimer: Yup, this post may contain affiliate links! If you buy something from me, I get some margarita money (not enough to buy a pair of shoes). Read more here.