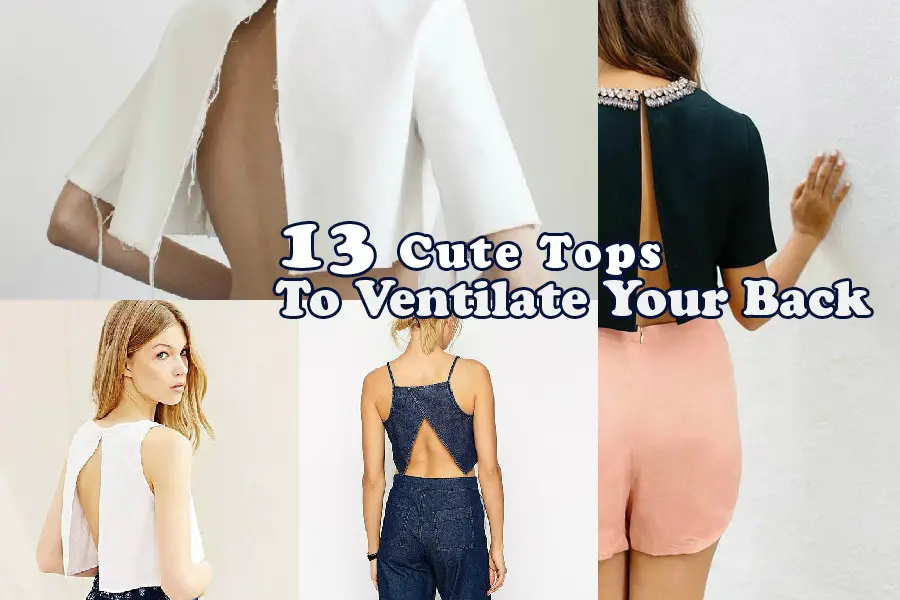 Prêt, pas prêt, l'été est arrivé! That was a fancy way to say (in French) that summer is here. While France may indeed enjoy le beau temps, in some other French part of the world (namely here, in Montreal), the weather gods have been hesitating to show their mercy.  Last week it was a desperate +13C, and some of us (not me!) even put on heavy winter armour. But I am sure we will have our fair share of sweating. Soon. And we will be whining about it just as much. So instead of whining, let's prepare for it! Why not give a glance to tops what not only look better from the back but will also keep your back well ventilated?
Open Back Top DIY by A Pair And A Spare
Let's start with a Backless Crop Top DIY by talented Geneva from apairandasparediy.com. After all, that's where my inspiration for this post and my next DIY came from. In her DIY Geneva shows us how easy it is to convert a vintage dress into a trendy and stylish garment. Hint: it involves a pair of scissors 😉
Open Back Tops With Overlapped Back
As an enthusiastic DYI-er I pay a lot of attention to the details. So, I could not help but notice that many open back tops have two overlapped parts on the back. Or, to keep with the spirit of upside down capital letters: a upside down Y. I wonder how useful the Y is… Does it make you feel like somebody gives your back a soft hug? Does it absorb extra sweat? Does it sooth your skin and help to eliminate pimples on the back? I wish it did, I do have a big problem with these stupid pimples.
The upside down Y comes in different shapes: somethings the leg is long, and sometimes it is the branches that are big. Personally, I like the short branches – they look so cute!
Sharp V Cut Tops
And here comes the upside down V! I like it better when the open back cut goes right to the neck without any additional overlaps, like in the DIY post I mention earlier. I think it looks elegant and less sweaty 😉 The wind can freely ventilate your back up to the neck. And the pimples will be loved to death by lusty summer sun (yes, I am obsessed with my pimples, they are so annoying!).
So yes, the upside down V is what I will do in my next DIY 😉
So guys, tell me – which open back top you liked the best?
Disclaimer: Yup, this post may contain affiliate links! If you buy something from me, I get some margarita money (not enough to buy a pair of shoes). Read more here.