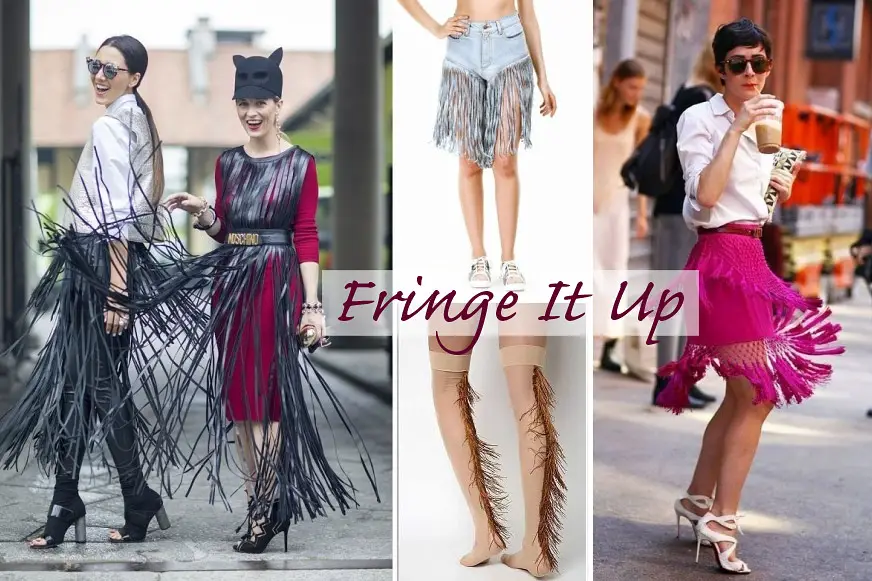 Can you guess what will be my next DIY project? 😉 Indeed, it will be probably something with a fringe! I was researching new spring 2015 trends and found out that the fringe trend from the last year is still up and running! We can see it everywhere: at Coachella, on the streets, on catwalks… Reports from the 2015 Fashion Weeks have shown that fashionistas are not ready to give it up yet!
Let's take a look at different kinds of fringe and how the fashion world suggest us to wear it.
Use Fringe to Add Some Texture
The skit below reminds me of craft projects for kids. I am sure if I touch it will rustle like paper. Yes, layers of shorter fringe can definitely add some fun  texture to your outfit!
These fully fringed sweaters look so furry! Nice alternative to vegan fur, don't you think?
Make a Fringe Statement
Go bold or go home! Long fringe does make a statement, but be careful hanging out near trees, bushes and other branchery – the fringe may get tangled up!
A maxi skirt with a fringe hem looks so-o-o sexy! I just wonder if its owner has to comb it before going out.
My advice to you: You do not have to buy it, you can simply make one yourself. Easy-cheesy! Follow the link below to see a post with the instructions.
That's a very long fringe! Girls I beg you: Stay away from bushes!
Embrace Tassels to Add Some Cuteness
Tassels! Can you handle this cute attack? I barely can, ahh!
I am looking at this jacket… and I think it is definitely the time to remember my macrame skills. I was so good at it when I was a kid.
For you who have kids – you should definitely involve them in making this fringe! The kids will have a lot of fun, and the mommy will get a new trendy jacket. Win-win.
If I had a tassel fringe skirt like this, I would spin till I get sick! (it wouldn't last long hehe)
Who is in love with tassels? Aimee Song is! She has them all over her skirt!
If you are more into sweaters than skirts, than you can definitely wear some tassels on your sweater 😉
Funny or Scary? Up to You to Decide!
Sometimes when I look at new fashion products I ask myself: When enough is enough? This is exactly the case here. So, would you wear these cuties from the pictures below?
This one is my personal nightmare. I am not kidding! I do have nightmares about forgetting to shave my legs and going out with bare legs and a shirt skirt.
Hmmm… it is a hula skirt.. or hula shirts?
Frames with fringe, wha-a-at! A joke from our old friend Gaultier. Great, I think I have just developed another nightmare.  Can I unsee it, please!
So guys, which outfit was your favorite? Tell me in the comments!
Disclaimer: Yup, this post may contain affiliate links! If you buy something from me, I get some margarita money (not enough to buy a pair of shoes). Read more here.