Daisy Lowe strips down to her lingerie in New York subway from www.dailymail.co.uk
Today I am going to NYC! I will spend there four days, and my plans include shopping, enjoying the city and also doing a small fashion photo shoot. I will be staying in an AirBnb in Manhattan, so the shooting will take place somewhere nearby to the place. In this post I pulled together inspirational pictures taken in 7 amazing locations that are perfect for taking fashion photo shoots in Manhattan.
Manhattan Parks
I am insanely excited to visit High Line Park. The park is built onto an old elevated rail line that goes 9 m above street level. It is pretty long (about 2.3 km) and has  stunning views over the city and the Hudson river. It features various art installations as well as many plantings beautifully composed together. Since it is winter time I will probably not see the plants in its full beauty, but I am sure that this place looks magnificent even under the snow.
 High Line Park shoot from jaglever.com
High Line Park shoot from 500px.com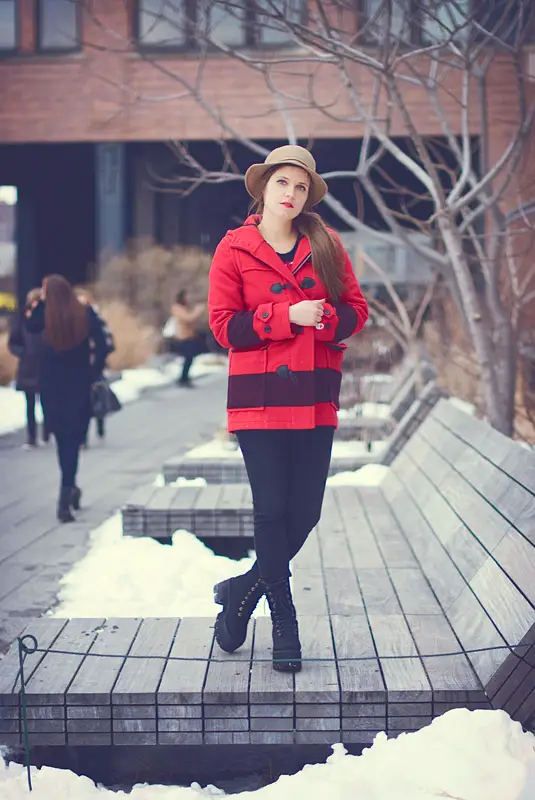 from my winter fashion photoshoot in High Line Park
Central Park is another great location for fashion photo shoots, especially in wither. It looks truly spectacular covered with big snow piles while deep purple shadows create a surrealistic background.
Snowy Central Park from jaglever.com
City Hall Park in lower Manhattan is full of history and respectable charm. Look at these amazing gas lamps! They look so chick on the pictures.
 Strolling in City Hall Park from jaglever.com
"What Lifts You" Mural
Choosing an impressive mural as a photo backdrop is a sure way to add energy and mood to the pictures. There are many great murals in Manhattan, but I do not find them that special, because I am so spoiled by Montreal, which also has lots of beautiful artistic wall paintings. However, one of Manhattan murals seems to be truly outstanding. I am talking about the "What Lifts You" one. It features wide spread wings drawn in white on a black wall. The mural is located on the corner of Mott St and Kenmare St, which is only 20 min by foot from the place where I will stay.
'What Lifts You' Mural from pinterest.com
Brooklyn Bridge
Brooklyn Bridge is one of the signature architectural signs of NYC, and it is without any doubts a great place to shoot inspiring fashion photos. I am not sure if I prefer the pictures taken on the bridge or the pictures taken under it. The pictures from under the bridge look quite mysterious, and I think this must be the place where many spooky urban legends were born.
Brooklyn Bridge Fashion Ad by H&M from trendhunter.com
Sexy and chic shot under the bridge from becauseimaddicted.net
Subway
Outside or inside, New York subway is a great place to take funky urban photos. Did you see the photo in the beginning of the post? I really like how the delicate texture of lingerie and the model's bare skin contrasts with the metal of the brutally looking ticket machines on the sides. Though I do not think I will strip down to my underwear in a public place 🙂
A crop top and JK boots in New York subway from tumbrl.com
Outside of New York subway from jaglever.com
Streets of Manhattan downtown
The easiest and most available option for a fashion photo shoot spot is of course busy streets of NYC with the signature yellow taxis and urban architecture. I can see myself playing a modern girl character that feels confident in a busy city that never sleeps.
Colorful newspaper stands, flocks of busy people, street signs and lamp posts… the streets feature so many elements that make a photo feel alive.
Shooting photos in black and white helps making emphasis on the urban geometry and the characters of the people. I feel truly inspired by the b&w vintage picture below taken in 1962 by a famous English photographer David Bailey.
New York 1962 by David Bailey from iconolo.gy
Olivia Palermo next to newspaper stands from oliviasstyle.blogspot.pt
Snow on Manhattan streets with yellow taxis from tumblr.com
from my winter fashion photoshoot in Manhattan, New York
Black and white shot on a NYC street from becauseimaddicted.net
I have a few ideas for the photo shoot, though I have not make up my mind yet on where to shoot and what mood to convey. I have chosen several items from my wardrobe that can be combined in a few outfits with different moods. The outfits would suit any of the above locations, and I guess I will decide what to shoot and how once I visit each location.
I am so excited to go on this trip! I am sure I will bring back amazing pictures, which I will be thrilled to share with you! Stay tuned!
Disclaimer: Yup, this post may contain affiliate links! If you buy something from me, I get some margarita money (not enough to buy a pair of shoes). Read more here.