For the makeup of my holiday outfit #1 I got inspired by the TV show Mad Men. I wanted to get intense black eyelines like the ones Betty and Megan had. However, I am not very experienced in makeup and cosmetics, so I decided to buy three cheap eyeliners and try them out. Now I share my experience with you.
But first, I will show you my make-up.
Mad Men Inspired Makeup
Inspired by Mad Men makeup of Betty Draper and Megan, I chose to have a natural makeup with a sparkly touch and the emphasis put on the eyes.
To achieve the natural look of the skin, I mixed the foundation with a day cream and evenly applied it on the face. I do not use a bronzer or blush, because I easily blush naturally. I still remember the school days when my face was all red after physical education classes and how my classmates laughed at me. I used to be a fat girl, and I thought it was the reason why my face got red. While growing up, I slimmed down, but my ability to blush easily preserved. However, I still hated it, because I remembered the teasing. You can understand now why I do not use the blush.
For the lips I used a pink lip gloss. I use it on regular basis, but for this makeup I decided to go with a sparkly one.
For the eye shadows I went with a shiny grey one. I applied some on the eye lids and under the external corner of the eyes. Then I added a bit of sparkles above the eyes below the end of the eyebrows and in the inner corners of the eyes. For the eyelines I used one of the eye liners I bought. Let's see which one it was.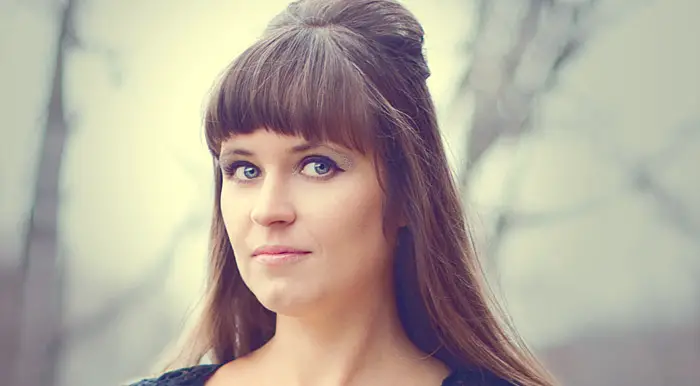 3 Eye Liners I Used For My Holiday Makeup
I drew a line with each eye liner on my hand, so you can see the difference in the colour.
Annabelle Instaglam Eyeliner + Mascara Touch-Up
Annabelle Roll-On Eyeshadow + Liner
L'Oreal Paris The infallible Blackbuster Eyeliner
1. Annabelle Instaglam Eyeliner + Mascara Touch-Up
I bought the black one for $12.
I though it would be so cool to have an eyeliner and mascara in one package. I was imagining how I would fix the eye lashes if I accidentally rub my eyes. Or if I cry in the cinema while watching a sentimental movie. And of course if my best friend gets married, my eyes would be full of tears of joy and I would be in an absolute need of an emergency mascara! So many cases in which this thing can be useful. So many emergencies. The only problem is… I do not have them. I do not rub my eyes, and I hate sentimental movies. And my best friend got married way before I met her. The only case where I imagine a portable mascara would be useful is rainy weather that makes our eyes cry with black tears. Which happens like once or twice a year – you know, umbrellas are pretty good in protecting us and our face from rain. And definitely it does not happen during winter. So yes, a useless thing – at least for me. Who knows maybe you guys do all these things and your best friend is still single. So it might be useful if only it was good. In fact, the mascara brush is too short even for touch-ups (or maybe my cat can use it? her eyes are twice as small as mines!). The mascara itself is clumpy and is already drying out. So useless.
The eyeliner is pretty good. It is more like brownish black than black black, which is not bad for a one with blue eyes like me.
2. Annabelle Roll-On Eyeshadow + Liner
I bought the one for blue eyes for $11 (not available anymore).
Again, I thought it would so cool to have eye shadow and eyeliner in matching colours in one package. Well, it was also a disappointment.
First of all the liner does not make a thin and even line easily – at least, I failed. Probably, it's because I am such a newbie and my hands actually shake. The colour of the liner is a dark shade of sparkling greyish blue, and it was not exactly what I was looking for. However, this liner may be useful for some other type of makeup.
As of the eyeshadow… well, it is bad. It is made of a form of loose powder with a roll applicator.  The colour is a nice light shadow of sparkling grey, and I did use it in my makeup. However, the roll applicator is poorly made. Sometimes it did not let much powder to go through, and sometimes I ended up with powder mountains on the lid and everywhere around. I had to use cotton swabs, and often I put the eye shadow directly on a swab and then apply it to the eye lid. The applicator is simply useless.
3. L'Oreal Paris The infallible Blackbuster Eyeliner
I bought the blackest black for $9.
Bingo! This was the eyeliner I ended up using for the makeup. It is easy to use, and the colour is a nice rich black. The only thing I did not like was the smell. The liner has the stronger smell than the others, and it is more chemical. Still for me this liner is the best for the price and the colour.
Tell me about your makeups, what's inspired you?
Disclaimer: Yup, this post may contain affiliate links! If you buy something from me, I get some margarita money (not enough to buy a pair of shoes). Read more here.