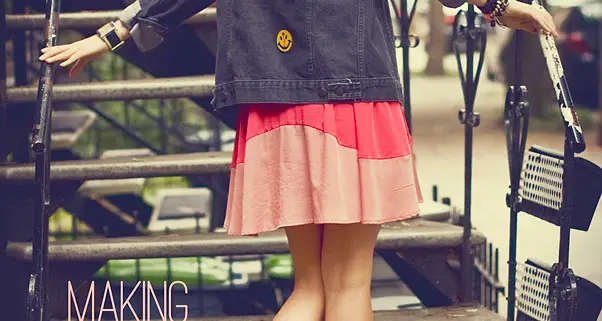 If you do not know what what to wear with a jean jacket, you can try to wear it with a dress. Like I did. This is a cool combination where the feminine nature of the dress nicely contrasts the tougher look of the jacket. Properly chosen shoes will make the outfit work for any situation. If you are going to a party, choose heels or sparkling flats; if you are heading to a casual meeting with friends or for a walk in a park, choose converses or creepers.
I opted for a casual look. I combined my vintage jean jacket with a pretty pink dress, pink high heel creepers (can creepers have high heels? hhmmmm), and black accessories. I love colourful clothes, but for some reason I prefer neutral black when it comes to the accessories like watches, bracelets, belts, etc.
If you are still not sure if dress + jacket is a right combination for you, take a look on how I wear my patched jacket with skinny jeans.
Free free to skip the other details and jump right to the rest of the photos.
Behind The Scene Of The Denim Jacket Outfit
As you remember, my jacket is an original vintage jacket by Levi Strauss from 80s. It is for men, and it is one size bigger than I usually wear. All this creates its cool baggy look! To increase its coolness to sky-high level, I upcycled it with shot smiley patches 😉 If you want to make a patched jacket for yourself, here is the DIY post with the instructions: Want To Make A Patched Jacket Without Any Sewing? Learn How To Succeed.
The dress is also from the same thrift store; though it is not vintage, it's just second hand. It cost me $15, and I was so happy when I found it! In fact I am pretty much sure I overpaid 🙂 The new one would have cost me the same – or even cheaper if it were on sale.
A few words about the photos. The pictures were taken on one of the famous Montreal winding outdoor staircases. Given the look of the building, I would say that this is a vintage staircase, haha. I have double feelings about it. The stairs look great and atmospheric as a part of city architecture, but I always wonder how people who live upstairs are not afraid of going up and down in winter… Looks dangerous and slippery. I would never agree to live in an apartment with such stairs… oh well.
So yeah, I love my upcycled jacket! These days I wear it pretty often – the fall has come to Montreal, and the day temperature is quite refreshing. It is often very windy, and thick vintage denim stops wind pretty well. Now when everybody are wearing mostly dark fall clothes and the day is not as shiny and bright as in summer, people start noticing my shot smiley patches. I love being in the centre of fashion attention 😉
More Photos Of The Outfit
Disclaimer: Yup, this post may contain affiliate links! If you buy something from me, I get some margarita money (not enough to buy a pair of shoes). Read more here.