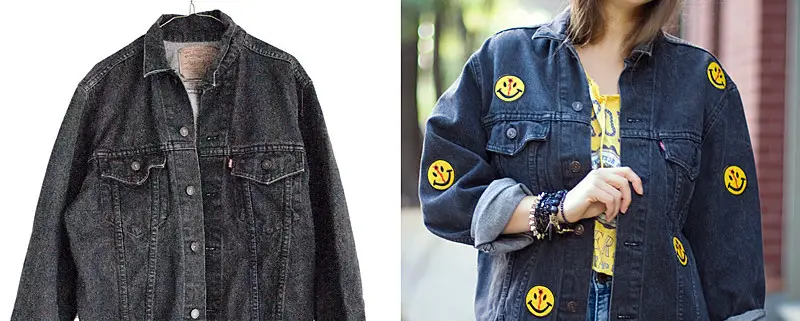 Want to make a patched denim jacket without any sewing? Heh, that's not easy, but I think I can help you here. If you do not want to your patches to fall off like autumn leaves, follow this general advice: Carefully choose the garment to patch and then after patching take a proper care of it.
This is the 3d post from the patched jacket series, find two previous ones here and here. 
Let's go into details!
Supplies You Need For This DIY
iron-on patches – the ones that require water
water
cotton cloth
iron
garment – better to choose one that made of cotton like denim jacket
fabric pen (optional)
Steam Iron-on Patches
Before starting I want to say a few words about the patches I used. Apparently these ones are made with a new gluing technology. In addition to regular hot ironing, they need water to get stick to the fabric. Hot iron + water = steam! The patches seem to be easier to work with than traditional ones: They took less heating time, and it was easier to fix problems after.
3 Things To Do Before Applying Patches
Before you start, I would like to tell you about the very basics of applying an iron on patch on a garment. It never hurts to repeat the basics 😉
Choose a proper garment: Since the hot ironing is involved, this DIY is not suitable for unironable fabrics like nylons, vinyls, or leathers – or anything that can be damaged by Cotton setting on the iron.
A cotton garment would be the best to use.
Clean or freshly launder your garment before starting (including new items)
Make sure you put your patch on unwrinkled well ironed place of the garment
Three seems to be a magical number for this DIY! After 3 basics comes 3 step instructions 🙂
3 Step Instructions
If you plan to apply multiple patches, my advise to you would be to arrange the patches on the garment and mark the places with a pen. Put two dots – it will help you to remember in what direction place the patches later.
Avoid putting the patches on the areas that experience a lot of bending, for example on the inner elbow part. If you really want to put a patch there… well then you'd better sew it after 😉
Pre-heat the iron on Cotton setting.
Make the back side of a patch wet. Put it on the garment, cover with a dump clothing, and iron for 15-20 sec.
Carefully put the garment the inner side out and iron the patch spot until it is dry.
Voila! You applied a patch!
Study carefully the glued patch. Do its edges come off? If so, switch to the troubleshooting chapter of my DIY 😉
More Pictures of DIY Result
Front and back! It has been more than a week I have been wearing the jacket, and it went to a washer once – the patches are yet there x–:-) (shot smiley emoticon 😉 )
Patches Coming Off! What To Do? Troubleshooting
Patches Coming Off After Applying
Some patches got glued very well from the first time, but with some I had problems. The middle got attached well, but there were problems with the edges. They were coming off as you can see on the picture below. And it started happening right after I was done with ironing them on the back! You can imagine my frustration… But I did not give up!
My rule of thumb is following: If something does not work, try to repeat the steps again. And that was exactly what I did.
To fix the problematic patch edges, do following steps:
make the other side around the edges wet
iron again like hell
while ironing, make sure to press well against the edges rather than in the middle
Patches Coming Off After Washing And Drying
Then I washed my jacket. And then I dried it in a dryer. After, I inspected carefully all the patches… and a couple of them showed the edges coming off. Oh well.
I repeated the steps from the previous paragraph, and it fixed the edges. Pheeuf!
Taking Proper Care Of Patched Garment
To make sure the patched garment serves you for long time, take a proper care of it:
before washing, put the garment inside out
while washing, use Delicate cycle with cold water setting and low
while drying, use Air mode without heating (the Delicate mode can still be too hot) OR dry the garment on a hanger
if the patches still start coming off, repeat the steps from the troubleshooting paragraph
Conclusion
If all this troubleshooting seems to be too complicated for you… well, just sew these damned patches! Ahahahaha!
Good luck! 😛
Disclaimer: Yup, this post may contain affiliate links! If you buy something from me, I get some margarita money (not enough to buy a pair of shoes). Read more here.