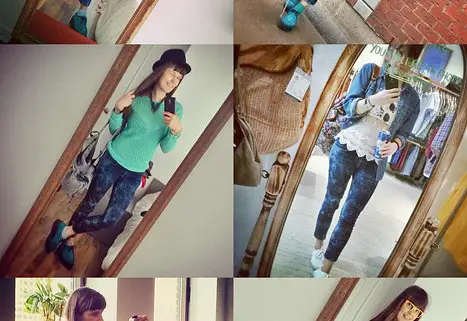 In this post I will show you how you can wear DIY bleached denim pants. Here come 6 skinny jeans outfits with my tie-dye bleached jeans starring! You probably remember that I upcycled them from old pants, and since then they have kept winning an award of one the best DIY garment I have ever made 🙂
6 Bleached Skinny Jeans Outfits
1. Keep It Casual
This is a casual relaxed outfit which I chose for a branch with a friend of mine. I wore a t-shirt of my boyfriend with Kermit The Frog on it and a ivory white hoodie. I bought the hoodie for my boyfriend, too, but somehow it happened that I wear it all the time (probably because I like its whitewash colour). The shoes are teal T.U.K. creepers which I LOVE – and you will see them a lot in the post. The green socks were supposed to colour match the t-shirt, though in reality they turned out to have a more intense colour.
2. Office Outfit
Here I was taking pictures in the office for the start-up fashion post on the blog of the company where I work. I paired the jeans with a pink shirt in square pattern. Since the jeans are skinny and have low rise, it may be a bit uncomfortable to wear it at the office. Here, the shirt is long enough to cover it. Practical and colourful.
3. Hipster Style
This is a monochrome outfit I wore to go to an art exhibition that was hold at a local hipster store. I paired the jeans with a lace second hand top and second hand denim shirt.  I like it how the floral bleach pattern on the pants goes with the lace.
The shoes are a KEDs imitation I got at – guess where – a thrift store! Nice catch.
This is the same monochrome outfit shot from a different angle.
4. Colourful Hipster Style
Teal and blue, one of my favourite colour combinations! While mixing together a teal mesh sweater, a blue bead necklace made by a Montreal designer Huard et Associes, and the teal T.U.K. creepers, I kept the rest of the accessories neutral: grey denim back-bag and a black hat I stole from my boyfriend. And a black bra 😉
5. Clashing Patterns
Pattern clashing, this is something I do once in a while. Here I paired my skinny jeans with a candy sweatshirt I bought as a gift to myself for St-Valentine's Day.
Another remarkable detail of the outfit is the yellow eyeglass frames. My eyesight is perfect, and I do not need glasses. However, I do appreciate eyeglasses as a cool accessory. These frames used to be glasses I got from a  thrift store. I loved the bright frame, but the glasses themselves were foggy due to aging (they were made of plastic). I took them out, and now I have a hipster accessory!
6. Colour Blocking
In this outfit I combined the jeans with a bright colour blocked shirt I got in a thrift store in San-Francisco. The shirt is very bright, and compared to it the jeans look as a basic item. I tucked the front of the shirt in the jeans and let the back hang freely. The shoes are again the same teal T.U.K. creepers. Their colour matches well the teal squares of the shirt.
Even More
You can see more skinny jeans outfits of mine here, in the post where I wrote about the bleaching process. The post confirms that these skinny jeans have been my true love since the very moment of when they were created 🙂
Which outfit did you like the best? Let me know, I am sooo curious!
P.S. These pictures are from my Instagram. If you want to be up-to-date with my outfits, follow me there 😉

Disclaimer: Yup, this post may contain affiliate links! If you buy something from me, I get some margarita money (not enough to buy a pair of shoes). Read more here.