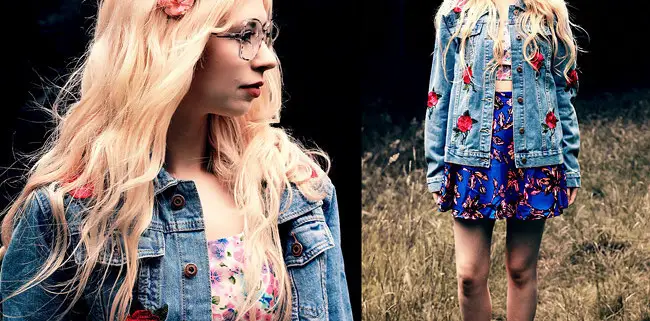 The patched denim jackets have been trendy this Summer 2014, and it looks like the trend will spill over to the Fall Fashion 2014. This is a great news for me, since I have been wanting to make one for a while. Buying is almost never on my list of options when it comes to clothes. I love doing stuff by hand (mostly upcycling) and prefer to spend money on something I cannot make: shoes and bags.
Denim Jacket With Patches Inspiration
Ok, back to the jacket. I saw this awesome piece in the Kayla Hadlington' s blog and immediately fell in love. What makes this particular jacket special is rose patches. I am a bit sick of seeing patches in form of labels, license plate, and signs. They are everywhere! The rose ones are so different.
Vintage Levi Strauss & Co Denim Jacket
So I went to a thrift store to hint for a vintage denim jacket. Vintage denim jackets seem to be a rare find nowadays – everybody is crazy about them! It made my task harder, but I figured one nice trick. Denim jackets should be hunted in a men's section of the store! The women's section usually has only outdated denim outerwear which is absolutely not cool.
So, I ended up finding and buying three denim jackets. One of them was this vintage Levi Strauss & Co denim jacket. Seems like a perfect candidate for my upcycling project!
Then I went online hunting for cute iron on patches.
Patches For DIY: Psychedelic Owls Or Shot Smileys?
I want to achieve both playful and original look, so I rejected the patches that look too serious and over-used: peace sign, skulls, smileys, signs, labels… even patches in form of eyes with lashes looked too over-worn.
Eventually I found this magnificent Etsy store TDFT. I spent about two hours scrolling through their patches and not being able to choose what to order! I loved them all. Only the quality was a bit worrisome. Also, the store review rating was quite low: 4 starts according to Etsy's "standards" is not very good.
Still, I ordered 3 set of vintage owls. I liked that the owls had different patterns and shapes, and their psychedelic look appealed to me. Each set has 5 patches, so in total I ordered 15 pieces! I will be able to cover every square inch of the jacket with them 🙂 They should arrive in three weeks, because each order is hand made by demand.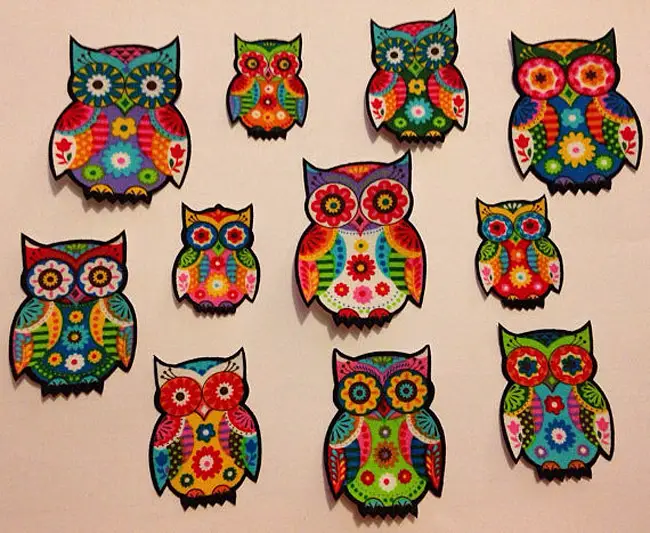 After ordering the owls, I stumbled upon another cool patches! Shot smileys, how fun they are! 😉 I could not resist and ordered them as well :))) (plus, the store rating was absolutely perfect, 5 stars, and the owner was super nice and shipped my order very quickly). I ordered 9 pieces each about 5 cm  big – this should be enough.
I will see which ones come first (the smileys are shipped from Thailand, so I have to wait 2 weeks minimum) and use the ones that come first. Cannot wait to make my dream patched denim jacket! Either with the smileys or with the owls!
P.S. I made the patched denim jacket! See the results in the post Want To Make A Patched Jacket Without Any Sewing? Learn How To Succeed.
Disclaimer: Yup, this post may contain affiliate links! If you buy something from me, I get some margarita money (not enough to buy a pair of shoes). Read more here.