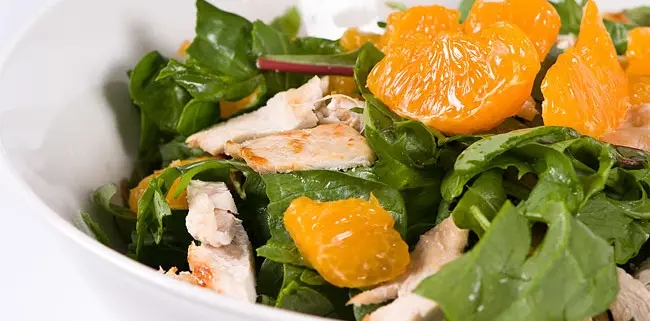 After making the Tangerine Candle DIY I ended up with three peeled tangerines. I decided to cook my favorite warm salad with roasted turkey and tangerines.
I used this recipe from Canadian Living as the inspiration. My version is simpler and calorie wise. And it is very, very delicious!
Ingredients:
2 tangerines
turkey breast scallopines, 250 g
5oz of salad mix
olive oil
balsamic vinegar
salt and pepper
Nutrition value: 1 portion (1/3 of salad) is about 280 calories.
Roast turkey on a pan on low temperature without oil until it fully cooked and gets brown on both sides. It takes about 10-15 min.
Separate tangerines into segments, removing any white pith and cutting away membrane. Collect the juice to use later in the salad dressing.
In large bowl, toss together tangerine slices and greens.
In small bowl, whisk olive oil with balsamic vinegar and tangerine juice. Toss with salad.
Cut turkey pieces in long slices; arrange over top.  Sprinkle with salt and pepper to taste.
Light up tangerine candles and put next to plates 😉 Now simply enjoy! Bonne appetit!
Disclaimer: Yup, this post may contain affiliate links! If you buy something from me, I get some margarita money (not enough to buy a pair of shoes). Read more here.