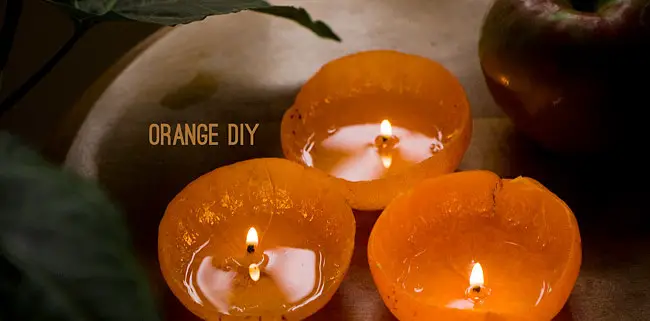 Autumn has arrived. Nights are getting colder and colder while days are getting shorter. Summer easiness slips away, and more and more often I find myself having lazy time while cuddling with the cat under a blanket. Autumn is the time when I start lighting up candles to compensate cooling sun and catch eluding warmth.
Last year my favorite autumn DIY project was making candle holders in jars. This time I decided to make my own candles. I've bought some wax online, and while waiting for the order to arrive, I made a very simple DIY: candles in tangerine peel. Small warm suns of my own.
Well, strictly speaking these are oil lamps and not candles, since I did not use wax.
To make your own tangerine oil lamps, you will need:
a coulpe of tangerines
cooking oil; it can be olive oil or sunflower one
cord to make wicks; I took chalk line cord #21, cotton & polyester blend
Make a horizontal cut with a knife in the middle of the tangerine.
Peel off with your finger around the cut. Be careful to not damage or tear off the peel edge.
Use a spoon to finish peeling further from the edge.
Peel off the other half of the tangerine.
To make wicks, cut the rope into small pieces. If your tangerines are very ripe and their inner white fiber is dry, you may try to use it as a wick. In my case the white fiber was not dry, and I could not set it on fire.
Fluff up one edge of each piece – it will be the wick "anchors".
Add oil and insert the wick in the middle.
Spread the threads equally to make a good support to the other end of the cord where the fire will be.
It should not be too long; otherwise it will fall into oil and will not be able to carry the fire.
Now light up your new candle and enjoy its warmness.
Little tangerine suns
What to do with the tangerine "leftovers" ? Eat them of course 😉
I used the peeled tangerines to make a warm salad with turkey… mnyam!
I will share the recipe very soon! Stay tuned 😉
Disclaimer: Yup, this post may contain affiliate links! If you buy something from me, I get some margarita money (not enough to buy a pair of shoes). Read more here.