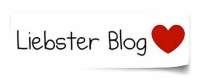 A few days ago I got nominated for the Liebster Blog Award by the lovely Mariel from sillystyle. The owner of the awarded blog is expected to answer some questions, share random facts about themselves, nominate other bloggers and create a new list of questions for them to answer.
I think this is a great way to get to know each other better and to discover other great blogs!

But first come the 11 questions Mariel from sillystyle asked me.
Why did you start your blog?
I have another blog in Russian where I write about my life and projects. The blog pictures are hosted on Flickr.com where I have a few followers. One day one of them, a lovely girl, asked me where she could see the projects I uploaded pictures for. That's how I decided to start a blog in English.
Where do you find inspiration?
Everywhere: on the streets, on Instagram, in fashion blogs. But not in magazines,  I do not read magazines.
What is your biggest pet peeve?
I am a perfectionist. When the things are not perfect, it bothers me, sometimes too much 🙂
How would you best describe your style?
Mix of vintage and hipster
3 places you would like to visit
New York, Australia, and the eastern part of Russia.
How would you describe yourself in one sentence?
I am an emotional person who tries to control her emotions with a cold mind of software developer
What are your favorite dishes / food?
I like simple dishes, for example a cucumber &  tomato salad with  pieces of chicken or turkey
What kind of music are you listening to lately?
Which qualities do you believe every human being should possess?
Intelligence. After all, it is our distinguishing feature as human beings
Which has been the best advice you have ever received and which one do you like giving out the most?
Listen to yourself! The best advice I ever got and the one I tell everybody. Listen and trust yourself.
If you were ever interviewed by a professional reporter, which question would you like to be asked? (it can be on any topic)
Something about my stubborn character
And here  are the 11 random facts about me (I tried to choose the ones I have not published on my About page)
When I was 18 years old, I sewed all my clothes myself
Before moving to Canada I spent 1.5 years living in USA
I love taking pictures, but I do not want to be a professional photographer
I used to like dogs, but recently after getting a cat I have become totally a cat person
I was married twice!
I have been working as a software developer for more than 10 years
I am a visual person, and I would rather tell a story in pictures than in words
I do not like very sweet food, and fruits are my favorite dessert
I love watching silly love soap operas, this is a great way for me to relax
I chew a chewing gum all the time, it is my biggest addition 🙂
I love travelling but hate planning it 🙂
And now is the time to announce the winners! I would like to award the following blogs:
theoriginalswagger
Congratulations to the winners! Here are my questions for you:
Why did you start your blog?
What do you do in life?
What is your favorite music?
What is your favorite movie?
What is your favorite piece of art?
Who is your favorite fashion designer?
What food do you like?
Where do you find inspiration?
Cats or dogs?
Do you watch TV?
If you could change one thing in humans, what would it be?
Thanks again to Mariel from sillystyle for this award!

Disclaimer: Yup, this post may contain affiliate links! If you buy something from me, I get some margarita money (not enough to buy a pair of shoes). Read more here.