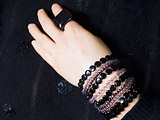 As you all know, I have a post about how to convert old bead necklaces to cool new bracelets. Recently I have used these instructions to convert a bunch of old necklaces to more new cool bracelets! This time I made four different sets which I show to you today 🙂
This is a set of black and grey plastic bracelets. These used to be long, very long necklaces. The transparent beads have two different shapes: round and cut, and this makes the bracelets even more interesting 🙂
My favorite black-n-white piece with a dog charm.
I found the charm at a second hand store, and the beads are agate pieces that used to be a part of my mom's necklace.
Apple green and white bracelets have such a fresh look!
The green beads are agates from my mom's necklace, and the white beads used to be a necklace I bought in Russia. I do not know what gemstone they are. It may be howlite, since the beads some green insertions.
These bracelets got all the left-overs from other bracelets 🙂
The brown beads are probably agate. The white beads are the same ones I used in the green apple bracelet, and the small semi-transparent ones also used to be a part of my mom's agate necklace (yes, that necklace was super long!)
I still have many beads left from the black and transparent grey necklaces. Not sure that to do with them… Maybe, I should create a bracelet DIY kit to give away? What do you think?
Disclaimer: Yup, this post may contain affiliate links! If you buy something from me, I get some margarita money (not enough to buy a pair of shoes). Read more here.