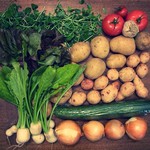 Today the basket of the week from LufaFarm includes: tomatoes, oakleaf lettuce, cucumber, onions, pea sprouts, garlic, potatoes, topinambour, baby turnips.
Today was the last basket, because my subscription has finished. I decided to take a break, a bit tired of cooking 🙂
Disclaimer: Yup, this post may contain affiliate links! If you buy something from me, I get some margarita money (not enough to buy a pair of shoes). Read more here.