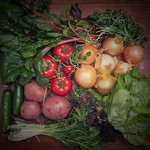 Today the basket of the week from LufaFarm includes: tomatoes, lettuce, swiss chard, bean sprouts, potatoes, onions, cucumbers, and a bouquet of kale. Lots of greens, and it is very good for fresh spring salads!
BTW, tomorrow is the first day of spring! Happy spring, everybody!!!
Disclaimer: Yup, this post may contain affiliate links! If you buy something from me, I get some margarita money (not enough to buy a pair of shoes). Read more here.