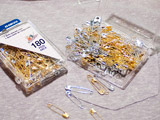 Everybody has safety pins in their home, and they seem to be such an ordinary object. But did you know that apart from being practical, it can also be a creative tool?
Look how DIY girls used them to enhance their style!
A leather jacket from The Blonde Salade:
And a ripped  t-shirt from outsapop.com:
Last summer I made my own DIY project with safety pins. Will show it soon, stay tuned!
Disclaimer: Yup, this post may contain affiliate links! If you buy something from me, I get some margarita money (not enough to buy a pair of shoes). Read more here.