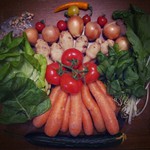 Two weeks ago I have started this little series about my LufaFarm basket of the week.
This week I got: sprouts (pea and lentil), carrots, tomatoes, swiss chard, Boston lettuce, spinach, onions, hot pepper, English cucumber, topinambour.
Love topinambour, will bake it in the oven 🙂
Disclaimer: Yup, this post may contain affiliate links! If you buy something from me, I get some margarita money (not enough to buy a pair of shoes). Read more here.