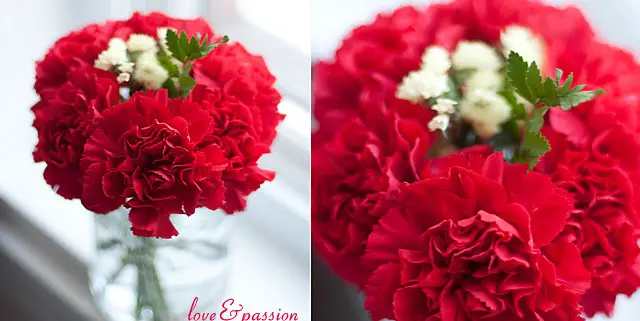 ♥ ♥ ♥
Happy St-Valentine's!
I am sure, girls, today you have got amazing beautiful bouquets from your loving boyfriends!
The flowers are beautiful on their own, and there is really no need to use sophisticated fancy vases.
Let me show you some creative and simple vases made of jars and bottles!
Some of them are mine, and some I found on Pinterest.
I love these red carnations.  These flowers are not expensive (I paid around $5), but they definitely are capable to make a statement!
The vase is a simple jar that used to contain some veggies mix.
Last St-Valentine's my boyfriend gave me three sunflowers.
It was the most original bouquet I have ever got!
Dahlias are perfect flowers.
I am always amazed to see how perfect and neat the nature can be.
I used them to decorate the Finds From Mega Swap 2012 photo session.
I love white gerbers. They are so… unreal.
They seem to be made of plaster by a genius sculptor.
I also put gerbers into transparent wine bottles.
And some pictures that I found for you on Pinterest.
from here
from here
from here
from here
from here
from here
from here
Happy St-Valentine's
♥ ♥ ♥
Disclaimer: Yup, this post may contain affiliate links! If you buy something from me, I get some margarita money (not enough to buy a pair of shoes). Read more here.