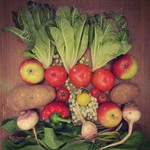 Montreal is a place where so many creative people live! They are my constant source of inspiration in everything and not only in fashion.
Montreal has a special  thing – a very local farm that is situated on the top of an office building. Its name is Lufa Farm. The farm is specially designed to provide the environment for more than 25 varieties of vegetables and does so without using artificial pesticides, fungicides or herbicides of any type.  It is quite small, but it has a big potential. It allows land previously lost to urban development to be farmed again. It minimizes the distance, time, and handling of food between a producer and a consumer.
Every week I receive a basket full of fresh vegetables. Since the farm operates all year around, I get my basket even in winter when the lack of vitamins and fresh taste in the regular food shows the most. It has also made me try so many new vegetables that I would never try on my own! And the fresh ones are so tasty.
Every Tuesday (the day when I get my vegetables) I will share with you the content of my basket.
Today I got:  potatoes, lettuce, tomatoes, swiss charde, turnip, mustard leaves, bell pepper, apples, germinations.
The turnip is already eaten!
Disclaimer: Yup, this post may contain affiliate links! If you buy something from me, I get some margarita money (not enough to buy a pair of shoes). Read more here.