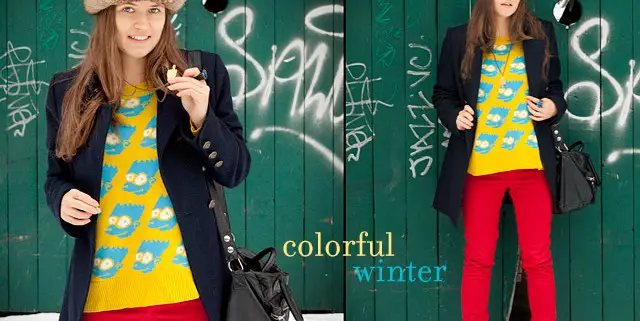 Dress For The Winter
After going through the pictures of  my summer photo session, I realized how badly I miss colors in my winter outfits!
I took a yellow sweater with blue Bart Simpsons, red pants, added my favourite navy blue coat and a brown vintage hat and composed this bright outfit. My motto is: Say no to the snowy mood! Let's make this winter colourful!
Vintage Hat
The hat I am wearing is a vintage fur hat made in Germany. My guess is that it was made in 80s. I found it while doing clothes sorting for the Mega Swap 2012. The hat has just one label with some magic text: "VEB Dresdner Hutfabriken Betrieb des veb textil-kombinat Cottbus". After googling the text, I found out that the hat was made at a textile factory located in the Cottbus city. The factory used to belong to the union of Dresdner hat factories or was operated by it. Or vice versa. I am not good in German 🙂
I found some modern photos of the Textil-Kombinat Cottbus on Flickr. The plant looks empty and abandoned, and it seems nobody works there anymore. However, its production is still being worn and appreciated!
Making investigations and learning history through the clothes labels is one of the things I like the best in vintage clothing. While doing research, I think about the people who made the items and wonder what their life was like.
Vintage clothes  connect generations!
Here is another outfit with the vintage hat. It is more modest and less colorful. However, the only black thing here is the bag!
Winter Colours
Meanwhile, the winter has colours of its own. I went to Lachine Canal park nearby my house and found quite a few bright spots!
I wish you a colourful winter!
Disclaimer: Yup, this post may contain affiliate links! If you buy something from me, I get some margarita money (not enough to buy a pair of shoes). Read more here.