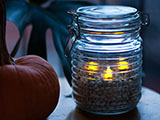 Here comes a sequel of my DIY Tea Lights In Jars!
I love my tea light candles; they add a cozy warmth to my place at nights. However, I had one good reason to look for a flame-less replacement. My cat is sooo not used to either candles or fire. It is not careful while being around and has burned its fur a couple of times. That's why I took flame-less LED tea-lights, vintage jars, beans, and made 100% safe and yet 100% cozy lights!
My boyfriend had a vintage butter-dish that he inherited from his grandfather. I really liked how the light refracted in its lid. I sprinkled some green peas on the plate part and put a LED tea light in the middle.
I also got a mason jar with a lid. I poured white beans inside and dug three LED tea lights into the beans.
I call it "a jar with fireflies".
I also got a few vintage glass jars that were too small to contain tea lights. I turned them into cute decoration pieces by putting colorful beans inside.
Since then my boyfriend is bugging me to tell him when he can use his butter-dish again… >:-)
Disclaimer: Yup, this post may contain affiliate links! If you buy something from me, I get some margarita money (not enough to buy a pair of shoes). Read more here.