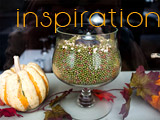 Every morning while going to work, I pass a nice resto located right in front of the Charlevoix metro station. I am always curious about what's going on inside and always look through its windows. Recently I have spotted pretty oil lamps that the restaurant had on the windowsills. They were placed in glassware filled with beans. I loved the idea and decided to do something similar at home!
I will publish my version soon. Stay tuned!
Disclaimer: Yup, this post may contain affiliate links! If you buy something from me, I get some margarita money (not enough to buy a pair of shoes). Read more here.